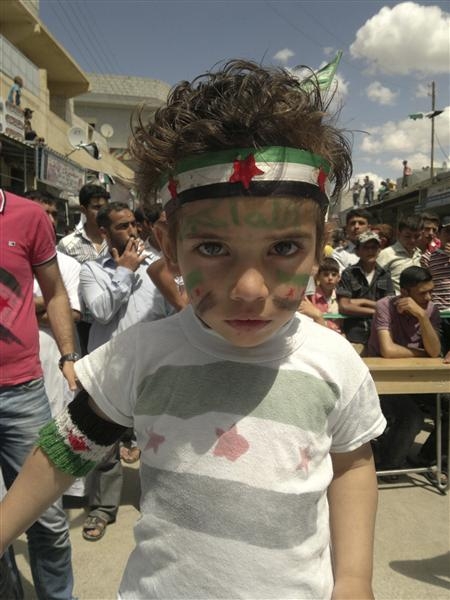 A demonstrator wearing a head band and t-shirt with the image of the opposition flag takes part in a protest against Syrian President Bashar al-Assad after Friday prayers in Maraa, near Aleppo, May 25, 2012. Handout/REUTERS
Egyptian President Mohamed Mursi has reaffirmed Egypt's rejection of any military intervention in Syria.
Mursi posted on Twitter on Sunday, "Our priority in Syria: Standing against any military intervention which may escalate the crises facing the Syrian people who are trying hard with all their strength and determination to attain freedom."
He stressed on the importance of a political resolution to end the crisis, saying, "A political resolution, with Arab, regional and international support and consensus, guarantees the paving of the way for a new representative regime for the Syrian people."
He insisted that keeping Syria undivided is a priority.
Syrian president Bashar al-Assad is expected to address his people on Sunday about the uprising against him that so far, according to Syrian statistics, has caused the death of 60, 000 people.