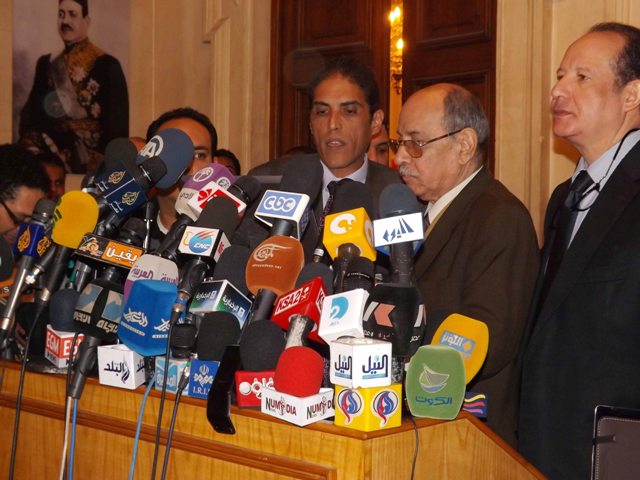 The National Salvation Front at a press conference - Ahmed Hamed/Aswat Masriya
The National Salvation Front, Egypt's main opposition coalition, has said that the constituent assembly does not have the authority to invite it for a dialogue as its role expired after writing the constitution.

The Islamist-dominated assembly that wrote Egypt's new constitution had invited four of the leaders of the National Salvation Front for a public dialogue on Friday.

The assembly's board said on Tuesday that it sent invitations to Mohamed ElBaradei, Amr Moussa, Hamdeen Sabahi and Sayed al-Badawy.

The National Salvation Front had announced its rejection to the referendum on the constitution that is written by the assembly, calling on people to vote against it.

Opposition forces argue that the controversial charter does not represent all Egyptians while Islamists insist that passing it would help implement stability and move Egypt's democratic path forward.

Ahmed al-Borei, secretary general of the opposition Front, described the invitation as "late", pointing out that the referendum has already begun.

He insisted that the Salvation Front will not accept anything short of the annulment of the controversial charter.

The first round of the referendum took place on Saturday, December 15, while the second is scheduled for December 22.

Preliminary results of the first round show that the majority of Egyptians approve of the controversial charter but a number of rights group have called for a rerun, listing violations that marred the vote.