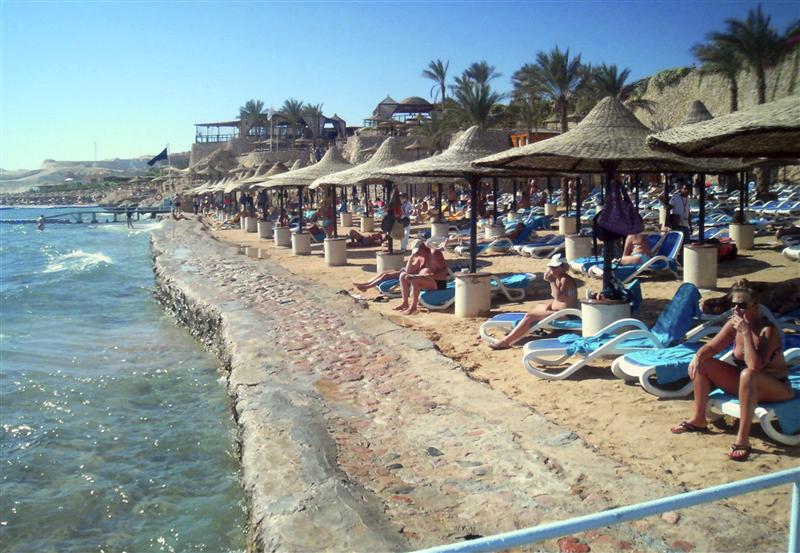 Tourists are seen at a beach with a swimming ban at the Red Sea resort of Sharm el-Sheikh December 2, 2010. REUTERS/Stringer
BERLIN, July 11 (Reuters) - German tour operators said holidaymakers may once again book trips to Egypt's Sharm el-Sheikh after the German foreign office eased travel advice for the destination.
TUI Germany, part of Europe's largest tour operator, TUI Travel , said customers would be able to book trips from July 21. The smaller tour operator FTI also said it was offering holidays to the beach resort.
The German foreign office had advised against travel throughout the Sinai peninsula, where Sharm el-Sheikh is situated, and recommended any tourists at the region's beach resorts return home early. That prompted German tour operators to bring customers home in February.
This week, Germany changed its advice and now warns only against travel to the north of the peninsula. It advises avoiding the Nile delta and valley and recommends holidaymakers exercise care when travelling to Egypt, even to Red Sea resorts.
Germans and Russians are the most numerous visitors to Egypt. The country's revenue from tourism plunged 41 percent to $5.9 billion last year after waves of unrest since the Arab Spring uprising in 2011. (Reporting by Victoria Bryan; Editing by Larry King)