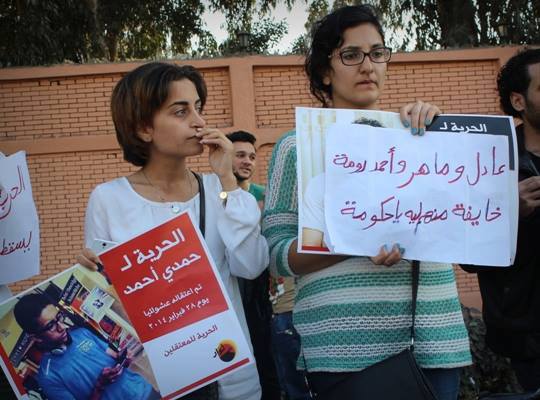 Tens of activists demonstrate by the presidential palace after a court upheld the jailing of Ahmed Douma, Ahmed Maher and Mohamed Adel on Monday, April 7, 2014. Ahmed Hamed/Aswat Masriya
CAIRO, June 17 (Aswat Masriya) An Egyptian court has adjourned its verdict on the invalidity of the protest law to October 21, for the law to be challenged before the Supreme Constitutional Court.
Human Rights lawyers have filed a suit against the law, enacted last November, on grounds of it being unconstitutional as it contradicts the "right to freedom of expression."
The law bans protests without attaining prior police permission at least three days in advance. It allows security forces to disperse illegal protests with water cannon, tear gas and birdshots.
Several political parties, including the Popular Current and Dostour, have demanded that the law be abolished and that all those detained on account of it be released, said a statement they issued on Monday.
Moreover, Younes Makhion, head of the Nour Party, has called for the protest law to be scrapped and said that the penal code was sufficient to deal with violent protesters.
Leading activist Alaa Abdel Fattah and 24 others were sentenced to 15 years in prison on charges of violating the protest law last week.
They were also accused of attacking and resisting the authorities, among other charges, and fined with 100 thousand Egyptian Pounds.
Other activists who were arrested and received sentences in relation to the disputed law include Ahmed Maher, Ahmed Douma and Mahinour al-Masry.