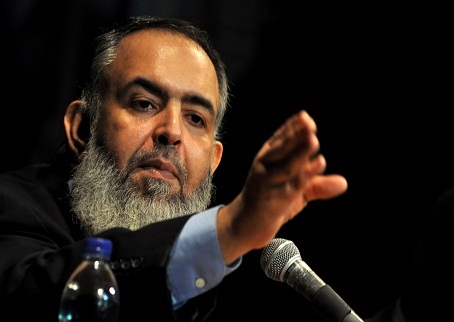 Hazem Abu Ismail, the potential presidential candidate, a photo from his official web page
Egyptian Prosecutor-General Talaat Abdullah has referred a number of complaints concerning certain political figures – including prominent Salafist preacher Hazem Abu-Ismail – to military prosecutors, an Egyptian judicial source stated Thursday.
The source clarified that several political figures would be questioned over remarks they made deemed "offensive" to Egypt's armed forces. The complaints were lodged by a number of lawyers and retired military officials, Al-Ahram's Arabic-language news website reported.
Abu-Ismail, head of the Salafist Raya Party, is one of those who will face questioning over comments he made last week in reference to Egypt's military.
On 1 May, on his television programme Malafat Abu-Ismail, the Salafist preacher referred to Egyptian Defence Minister Abdel-Fattah El-Sisi as a "sensational actor." His comments came in response to a speech given by El-Sisi in commemoration of Egypt's Sinai Liberation Day on 25 April.
Abu-Ismail has been a staunch critic of Egypt's armed forces. In March, he criticised opposition figures who called for the military to reassume control of the nation's affairs.