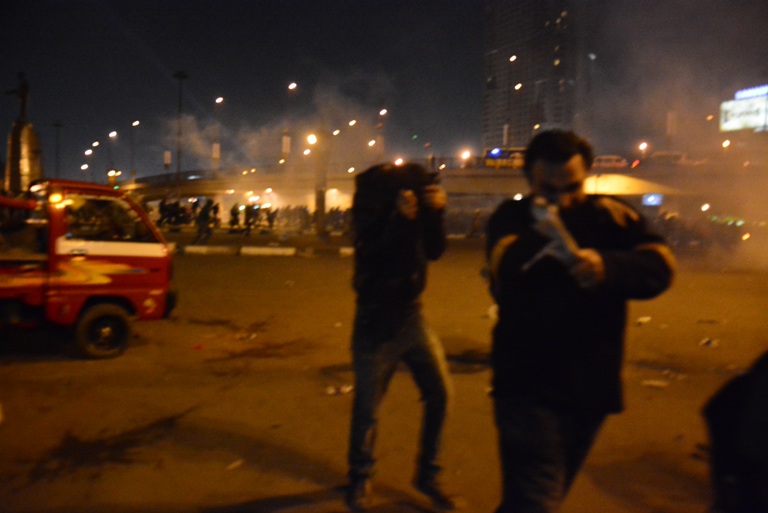 Security forces fire teargas on a group of protesters decrying acquittal of Former President Hosny Mubarak near Tahrir Square to disperse them on Saturday, November 29, 2014. ASWAT MASRIYA/Ahmed Hindawy
CAIRO, Nov 29 (Aswat Masriya) - Police forces arrested 85 protesters who rallied near Tahrir Square decrying dropping charges against the toppled President Hosni Mubarak on Saturday evening, Cairo Security Chief Ali al-Demerdash said.
One female protester was among those arrested.
Demerdash added to Aswat Masriya that all protesters were treated according to the law by being warned first, followed by teargas firing, then dispersing them.
Security forces were reported to fire teargas at a group of protesters at Abdel Moniem Riad square in downtown Cairo. Eye-witnesses told Aswat Masriya that security forces used water cannons, tear gas and birdshot to disperse the protest.
Nearly a thousand people rallied in protest over a court ruling dropping charges against the toppled President Hosny Mubarak over complicity in the killing of protesters during the January 2011 uprising on Saturday evening.
The ministry of interior said protesters "were peaceful when expressing their feelings" until a group of Muslim Brotherhood protesters joined them at around 6 p.m. In an official statement, the ministry accused Brotherhood protesters of "clashing with protesters", pelting security forces with rocks and "chanting against the army and police."
The ministry said it warned the group of Brotherhood supporters to leave, "gradually" dispersing the protest.
A number of political forces have called on their supporters to head to the square, including al-Dostour Party, Strong Egypt party, April 6 Youth Movement (the democratic front), the banned Muslim Brotherhood, and the banned Anti-coup alliance.
Egypt's banned Muslim brotherhood urged Egypt's revolutionaries to revive the revolution and drop political disputes in a statement which ended with "one hand ... our power lies in our unity".
The protesters gathered in Abdel Moniem Riad in dowtown Cairo and chanted against military rule, calling for retribution. The square echoed with the January 25 uprising trademark chant; "the people want to bring down the regime".
The Cairo Criminal Court dropped on Saturday the case against Mubarak over complicity in the killing of protesters during the uprising which toppled his regime.
The court also acquitted Mubarak's Interior Minister Habib al-Adly and four of his aides on charges of inciting and aiding the killing of 238 protesters.
A number of protesters had clashed with a police officer in Tahrir square hours ago, prompting the officer to fire his gun to disperse the protesters. Clashes were also reported between a few protesters and Islamists who held Rabaa signs during the rallies.
Tens of families of protesters killed during the 18-day January 2011 uprising also protested the court ruling earlier near Tahrir Square in downtown Cairo, calling for retribution for those killed.
Security forces cordoned the small protest, according to eye-witness accounts.
Forces had closed Tahrir Square, the prime destination of protesters during the 2011 uprising, as a "precautionary measure" earlier on Saturday.
Egypt's top prosecutor announced on Saturday his intention to challenge all rulings at the Court of Cassation.
Mubarak and his interior minister were sentenced to life in prison in 2012 for the same charges before an appeals court ordered their retrial. The retrial began in April, 2013.
In May, a Cairo court sentenced Mubarak to three years in prison on embezzlement charges, while his two sons were sentenced to four years in prison for the same charges.
He is serving time in a military hospital in Cairo, where he returned upon Saturday's ruling.