A woman raises the Egyptian flag, holding a picture of President Abdel Fattah al-Sisi on Jan. 25, 2017. Aswat Masriya/ Marwa Saber
CAIRO, Jan 25 (Aswat Masriya) - Quiet loomed over Tahrir on Wednesday noon as police vehicles and a few cars circled the Square on the sixth anniversary of the January 25 uprising that toppled President Hosni Mubarak.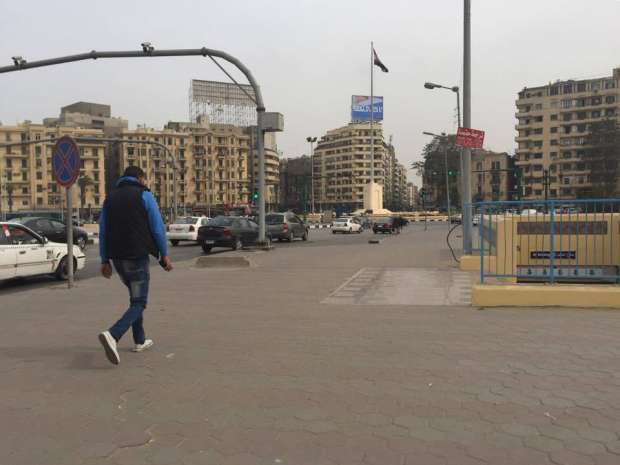 Tahrir Square, Jan. 25, 2017. Aswat Masriya/ Marwa Saber
Tahrir Square was the focal point of protests in Cairo where thousands of people from different marches converged to demand the removal of Mubarak's regime and also "bread, freedom and social justice" six years ago.
In state-owned and private newspapers, President Abdel Fattah al-Sisi's statements on the celebration of the 65th Police Day anniversary topped headlines, whereas little space was designated for coverage to mark the anniversary of the uprising.
Sisi gave a televised speech early Wednesday in commemoration of the uprising which he called "a turning point in Egypt's history."
Interior Minister Magdy Abdel Ghaffar stated earlier that the ministry "will face any attempts to disrupt security with utmost firmness in accordance with legal procedures."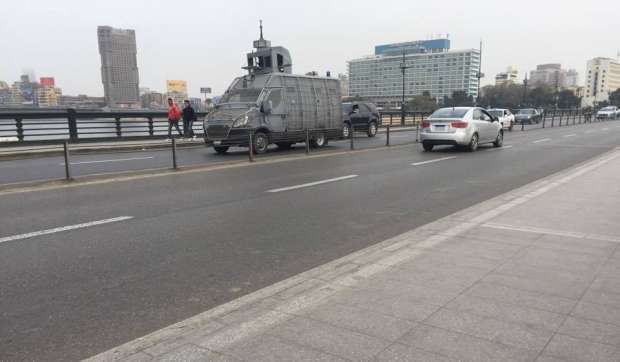 Qasr al-Nil Bridge, Jan. 25, 2017. Aswat Masriya/ Marwa Saber
January 25 is a national holiday marking both the anniversary of the uprising and Police Day.
There was heavy police presence in Tahrir Square and its vicinity, with police forces securing the entrances to the Square as well as nearby streets.
Authorities also shut down Sadat metro station; a measure that has become associated with every January 25 anniversary.
Inside metro stations, security officers were heavily dispersed.