The Shawkan photography competition held its second round in December, 2016. Photo from Shawkan Photo Awards Facebook page
CAIRO, Jan 1 (Aswat Masriya) - The Shawkan photography competition held its second round in honour of detained photojournalist Mahmoud Abou Zeid and announced its winners in the first hours of Sunday.
Abou Zeid or 'Shawkan' was arrested in August 2013 while he was covering the security forces' dispersal of the Rabaa al-Adawiya sit-in and has been detained ever since as detention periods have been repeatedly renewed.
The 2016 version of the competition, like its predecessor, aims to honour and recognise distinguished photojournalism in Egypt, while keeping alive the memory of Shawkan whose work was praised and awarded multiple times.
The submission and selection of photos took place over the month of December.
This year the competition introduced a second category besides photojournalism which is daily life, with each category having its own list of winners.
After a week-long period of submissions, over 2500 photos were received from more than 850 professional as well as amateur photographers. At a later stage, the number was filtered down to 500 photos in both categories and then down to 40 for the final stage.
Five winning photos were chosen by the judging panel for each category.
The judging panel included Hossam Diab, photojournalist and Deputy Editor in Chief of al-Ahram's sports section, who was also part of last year's panel. This is in addition to Roger Anis, photojournalist at al-Shorouk newspaper since 2010, Thomas Hartwell, Photo Editor at the Associated Press, Ahmed Hayman, and freelance photographer Randa Shaat.
Winning first place in the photojournalism section was Islam Gomaa's photo of two women dressed in black, mourning the dead after the bombing of the St. Peter and St. Paul church on Dec. 11.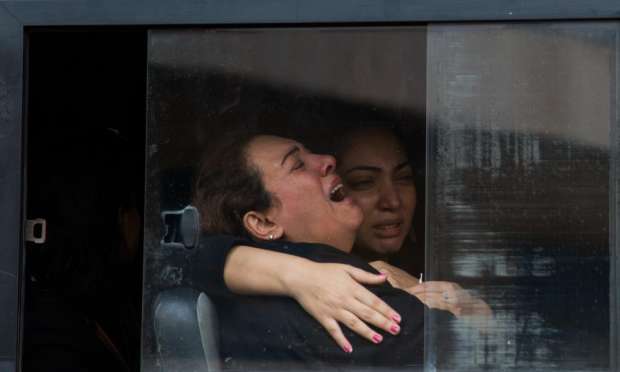 First place winner in the photojournalism category. Photo by Islam Gomaa
A photo of a young girl sitting on a court bench awaiting the start of her father's trial in Tora Police Academy won second place for the photojournalism category.
In the daily life category, photojournalist Mohamed Mahdy won first place with a photo of a young boy from Rashid looking ahead with a cheerful smile.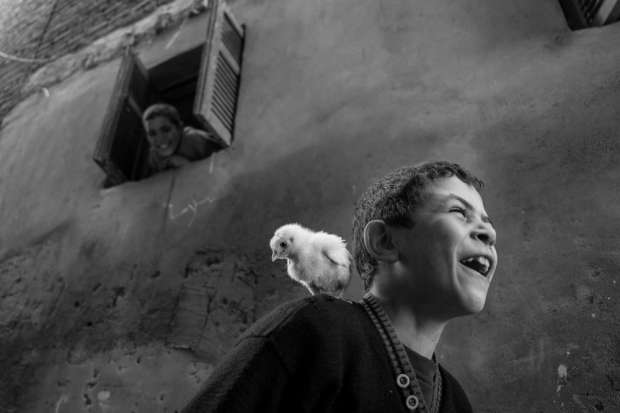 First place winner in the daily life category. Photo by Mohamed Mahdy
Other winning photos in the daily life category depict people gathering at a traditional wedding, Ramadan prayers and café goers playing backgammon.
Aswat Masriya's Multimedia officer Ahmed Hamed was shortlisted in the competition's daily life category selection for his photo of a sumo fighter competing in Cairo in June.
"We, as photojournalists, are honouring Shawkan and holding this competition in response to his advice from prison to continue pursuing photojournalism," one of the competition organisers said in a Facebook video.
In July, the Committee to Protect Journalists (CPJ) announced Shawkan as one of four recipients of its 2016 International Press Freedom Awards.
Shawkan was held in pre-trial detention for over two years, before his case was referred to court in September 2015, trial sessions are still ongoing.
He is accused of weapons possession, illegal assembly, attempted murder, and belonging to the banned Muslim Brotherhood group in the "Rabaa dispersal" case, along with over 700 defendants. Shawkan has denied all the charges.
In the last trial session on Dec. 27, ten defendants were released on health grounds.
However, Shawkan who suffers from Hepatitis C was not among those released, despite repeated requests by his lawyers.
Solidarity campaigns led by local and international rights groups have repeatedly called for Shawkan's release, echoing concerns over freedom of expression in Egypt.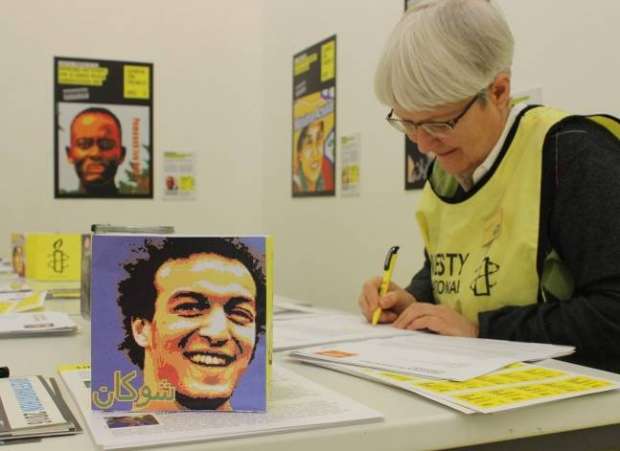 Amnesty International's campaign calling for the release of photojournalist Shawkan in Berlin, Germany on Dec.19, 2016. Aswat Masriya/ Ahmed Hamed