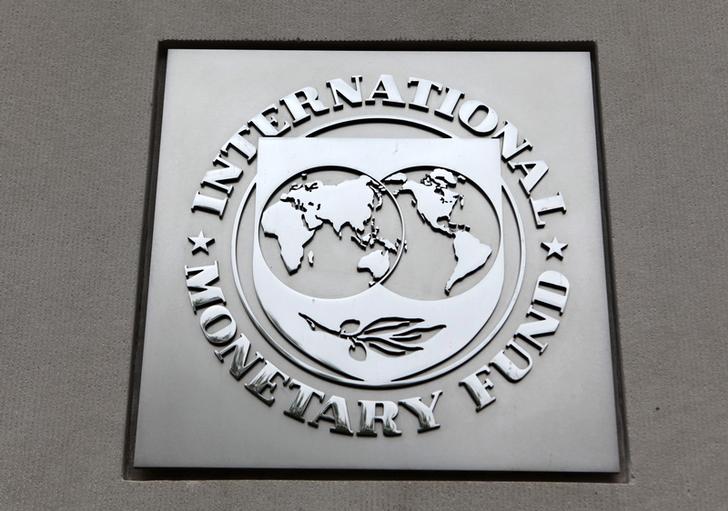 The International Monetary Fund (IMF) logo is seen at the IMF headquarters building during the 2013 Spring Meeting of the International Monetary Fund and World Bank in Washington, April 18, 2013. REUTERS/Yuri Gripas
CAIRO, Nov 26 (Reuters) - Egyptian economic reforms have begun to turn the economy around after years of turmoil but the government must allow greater exchange rate flexibility to boost growth more, the International Monetary Fund said.
The IMF concluded on Tuesday its first mission to assess Egypt's financial and economic affairs since 2010, before a popular uprising that toppled Hosni Mubarak and ushered in a period of political turbulence.
The government asked for the consultations in the hopes that a positive report would boost Egypt's image ahead of an international investors conference due in March.
The IMF praised Egypt's tax, regulatory, monetary and subsidy reforms and forecast economic growth of 3.8 percent in fiscal 2014-15, in line with government predictions.
But it expressed concern about Egypt's exchange rate, which has been kept within a tight range since the beginning of June, after the bank allowed the pound to weaken in May.
"A more flexible exchange rate policy focused on achieving a market-clearing rate and avoiding real appreciation would improve the availability of foreign exchange, strengthen competitiveness, support exports and tourism, and attract foreign direct investment," the head of the IMF's mission, Chris Jarvis, said in a statement.
The rates at which banks are allowed to trade dollars are determined by the results of central bank sales, giving the bank effective control over official exchange rates.
The government's control of currency rates has contributed to a flourishing black market in the Egyptian pound, which was volatile last week due to a surge in commercial demand for dollars and concerns over Cairo's plans to repay a $2.5 billion Qatari deposit.
Qatar was a key financier for Egypt after Mubarak was toppled, but the government under President Abdel Fattah al-Sisi has turned to Saudi Arabia, Kuwait and the United Arab Emirates, which have provided $10.6 billion in the past year in grants and petroleum products.
The IMF said Egypt would continue to need external aid.
"The authorities have already begun to take the action needed... Policies implemented so far, along with a return of confidence, are starting to produce a turnaround in economic activity and investment," Jarvis said.
"The authorities are also seeking to improve Egypt's external position, though additional external financing will still be needed through the medium term." (Reporting By Shadi Bushra; Editing by Hugh Lawson)