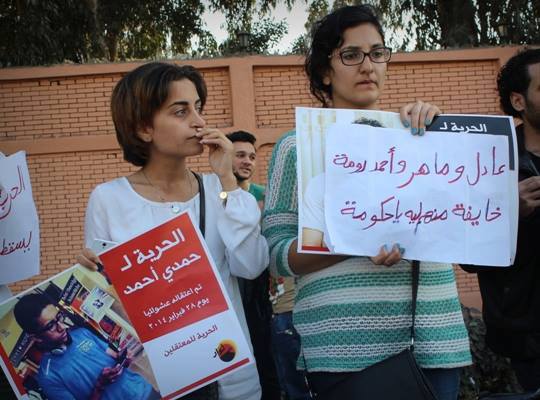 Tens of activists demonstrate by the presidential palace after a court upheld the jailing of Ahmed Douma, Ahmed Maher and Mohamed Adel on Monday, April 7, 2014. Ahmed Hamed/Aswat Masriya
CAIRO, Nov. 26 (Aswat Masriya) - Two years after Egypt adopted a draconian protest law, rights advocates have reiterated calls for its annulment in a joint statement signed by 16 groups on Wednesday.
Ever since it was issued in the transitional months under Interim president Adly Mansour, the law has been the subject of critical scrutiny by local and international rights organizations.
The Wednesday statement was backed by the Egyptian Initiative for Personal Rights (EIPR), the Cairo Institute for Human Rights Studies (CIHRS), the Association for Freedom of Thought and Expression (AFTE) and El-Nadeem Centre for the Rehabilitation of Victims of Violence and Torture, among others.
It called on the president to repeal the law and pardon all those "convicted for exercising their right to peaceful assembly and demonstration."
Freedom of Assembly Researcher at (CIHRS) Kholoud Hafez told Aswat Masriya on Thursday if the law is repealed, "thousands" of those detained under its provisions can be released if they are not facing other charges.
In the absence of a legislative authority since parliament was dissolved in 2012, the law was passed by presidential decree on November 24, 2013 as per article 156 of the Egyptian constitution. The article further stipulates that laws should be "presented to, discussed and approved by the new House of Representatives within 15 days of the commencement of its session."
Egypt's new parliament, which is currently being voted in with the final round of the second and last phase of elections planned for later this month, will convene in December.
Hafez was skeptical of the possibility that within 15 days the new parliament will seriously look into the provisions of some 300 laws, decrees and legislative amendments issued by the president during the course of the past two years.
Hafez explains that "the parliament is expected to either repeal them all or ratify them all," a process that is further complicated, in case the parliament ratifies the law, by the fact that in order to repeal it a proposed alternative draft must be presented before parliament.
Rights groups have been calling for the amendment of the draconian protest law since its issuance in November 2013. The 25 article legislation outlines regulations and conditions for peaceful protest which practically ban protests.
Whoever wants to organise a public meeting, march or protest must notify in writing the police station under whose jurisdiction the protest will be held, which according to Hafez, violates international standards for peaceful demonstrations.
Rights groups had spoken out against the law even before it was passed, but to no avail. "The law would criminalize all forms of peaceful assembly, including demonstrations and public meetings, and gives the state free hand to disperse peaceful gatherings by use of force," said a joint statement over two years ago.
Activists like Alaa Abdel Fattah and Mahinour al-Masry are currently serving prison sentences in separate cases for violating the law. Other rights advocates like Yara Sallam and Sanaa Seif were also imprisoned for the same reasons but were abruptly released on a presidential pardon last September on the eve of President Abdel Fattah al-Sisi's trip to New York to head Egypt's delegation to the UN's annual General Assembly meeting.
Just last week, 13 people were arrested and remanded in custody for four days pending investigation for "illegal assembly" and "protesting without a permit," in two separate cases while commemorating the fourth anniversary of deadly protests in iconic Mohamed Mahmoud street in Downtown Cairo.