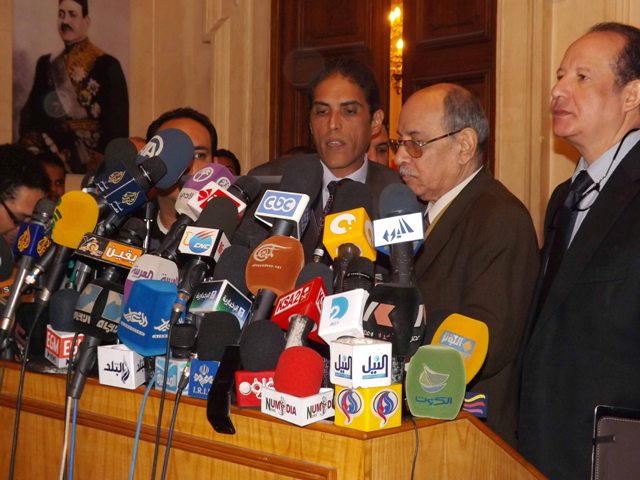 A National Salvation Front press conference - Aswat Masriya
Magdy Hamdan, secretariat of the Democratic Front Party and parliamentary candidate of the National Salvation Front, has ruled out the possibility of al-Wafd Party's withdrawal from the front in spite of ongoing disputes.
"Al-Wafd wants to always be ahead and this is not a democratic approach," Hamdan said.
Hamdan expected disputes to arise between parties of the front on the division of constituencies and the arrangement of electoral lists.
If disputes flare up, we will resort to the front's leading figures, Hamdan stated.
The front has refused to include the 'Strong Egypt' Party led by former Muslim Brotherhood leader Abdel Moneim Aboul Fotouh because "all his stances are not in contrast to the Brotherhood ... he is politicized, and if he had joined he could have caused the fragmentation of the front. He tried to do that by intervening in the front's affairs," Hamdan said.
The 'Strong Egypt' Party has no leaderships that can compete in the coming elections, he added.
On the other hand, spokesman of the 'Strong Egypt' Party Mohamed al-Mohandes said on Wednesday that his party never asked to join the National Salvation Front.
"We refuse to partake of an alliance based on an Islamist-Popular polarisation," al-Mohandes added.
All rumours of the party's request to join the front are untrue, the spokesman said in response to a statement Amr Moussa, member of the front, made to the Saudi Okaz newspaper.
Moussa had said earlier that Aboul Fotouh aims to destroy the Salvation Front and that the front is completely against the 'Strong Egypt' Party joining it.