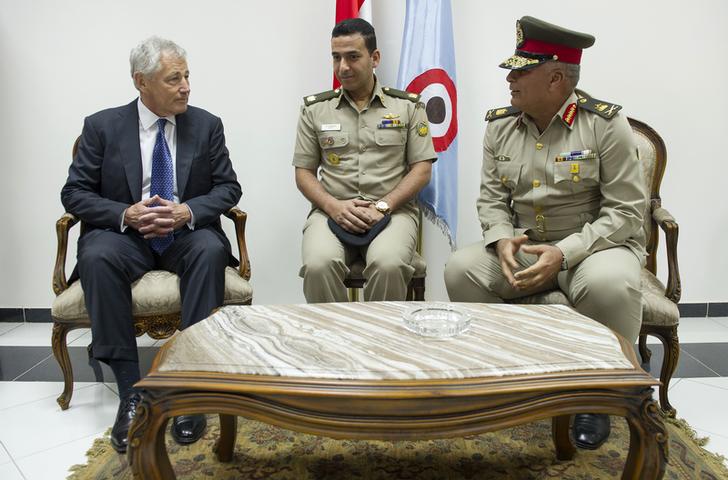 U.S. Defense Secretary Chuck Hagel (L) speaks with Egyptian Army Chief of Staff Major General Sedki Sobhi (R) upon his arrival in Cairo April 24, 2013. REUTERS/Jim Watson/Pool
CAIRO, Feb 4 (Aswat Masriya) – Egyptian Defence Minister Sedki Sobhi discussed regional security and "terrorism" with United States Secretary of Defence Chuck Hagel over the phone on Tuesday evening.
A readout of the phone call provided by the US Department of Defense said the top defence officials spoke to "exchange information about the security environment" in the region.
"The two leaders reaffirmed their commitment to continuing a strong security partnership between the United States and Egypt," the readout stated.
Egypt has been waging a wide-scale campaign against militancy, which has surged since July 2013. Sinai has been hit the hardest by attacks, with the latest being a series of blasts last Thursday which killed more than 30 people but other parts of the country have seen attacks as well.
In November, Egypt's most active militant group Ansar Bayt al-Maqdis, which claimed responsibility for numerous attacks including last Thursday's, pledged allegiance to Islamic State fighters in Iraq and Syria.
The US, meanwhile, has been leading a coalition in the region against Islamic State fighters, who have gained control over large territories in Iraq and Syria in 2014.
The group rose to notoriety when it released a series of videos over the past summer, showing international journalists and aid workers held hostage by the group, dressed in orange jumpsuits with a masked man holding a knife behind them.
The videos usually featured still images of what is believed to be the hostages' decapitated bodies and also featured messages to governments and world leaders.
The Islamic State fighters' latest purported video was released on Tuesday and shows a different style of execution. Abducted Jordanian pilot Muath al-Kasaesbeh is seen being burned alive, while confined within a cage. Aswat Masriya could not independently verify the authenticity of the video.
Egypt has condemned it through both the presidency and ministry of foreign affairs.
Egyptian President Abdel Fattah al-Sisi affirmed that Egypt supports Jordan in these "critical" circumstances and in the face of a "brutal, cowardly organization," according to statement published by state run television.