CAIRO, Jul 23 (Aswat Masriya) - In early February 2015, tens of thousands of financial documents were leaked to the public exposing secretive HSBC Switzerland bank accounts used by over 100,000 clients worldwide for illicit activities such as money laundering and tax evasion.
Known as the Swiss Leaks, the documents have taken on a new importance after the discovery of a heavy Egyptian presence among them: over 1,400 bank accounts belonging to 700 customers with total deposits reaching $3.5 billion.
In this investigative report, both reporters review the cases of several businessmen, former ministers and public figures from Mubarak's regime, including the likes of Mohammed Rashid, former Minister of Commerce and Industry, and Khadija-al Gamal, daughter-in-law of former President Hosni Mubarak.
Yasser Suleiman Hisham Mallawany, a controversial figure for his role in the so-called "Egyptian Stock Exchange scandal", is among the bank clients who were exposed in the leaks.
Largely unknown by the public, the media-shy Mallawany was a committee member in the dissolved National Democratic Party (NDP) - formerly the ruling party under former president Hosni Mubarak.
Together with his wife, Ghada Taher, they controlled four separate accounts with HSBC Switzerland since May 28, 2004. Between 2006 and 2007, these accounts held deposits worth more than $760,000.
In this three-month investigation, the reporters tried to uncover the reach of his business empire, the network of his relations with major businessmen, and his role in manipulating the Egyptian Stock Exchange before the 2011 revolution.
Who is Mallawany?
A 1981 graduate of Cairo University, Mallawany, 55, was a former member of the board of the Al Watany Bank of Egypt and the Chief Executive Officer of EFG Hermes Holding Company. As a result of criminal investigations into the stock exchange manipulation, his properties were seized by the state. During the hearings, he was referred to as the "the third suspect" by criminal prosecutors.
"The third suspect"
"Ask Yasser Mallawany," said Alaa Mubarak, son of Mubarak, to Ahmed Hassan, the initial attorney general at the public prosecutor's office during his hearing on April 13, 2011.
This came in response to a question about the existence of cluster companies created to buy and sell state assets -- companies based on commissions transferred to the Hermes Company's overseas accounts. The questioning was part of lawsuit number "10427" in which public prosecutors were investigating insider trading in the stock exchange, investment funds, details of Egypt's debt repayment scheme, the privatization of companies in the business sector as well as the takeover of the Egyptian Al Watany Bank.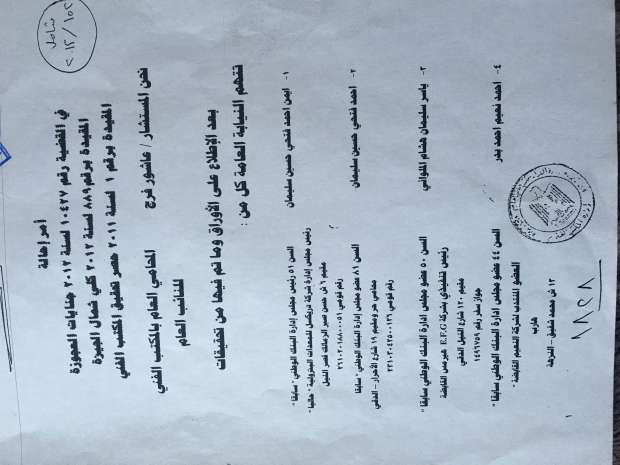 Referral order in case no. 10427
Documents obtained by both reporters indicate that deposits worth over $760,000 between 2006 and 2007 were being held in four undisclosed accounts owned by Mallawany and his wife Ghada Taher in HSBC Switzerland. The accounts were opened in May 2004.
The files of the case obtained by both reporters did not make any reference to these accounts during the investigation into the manipulation of the Egyptian stock exchange despite the fact that Mallawany was sitting on the board of Al Watany Bank between 2006 and 2007. And as a public sector servant, Mallawany was required to submit financial disclosure for his and his wife's assets.
Mastermind
"Yasser Mallawany is the mastermind behind it all," commented Colonel Tareq Marzouq, Director of a special unit at the General Directorate for Investigations into abuse of public funds, in response to questions from attorney general Ashour Farag. This confession was included in an interrogation report of September 20, 2011.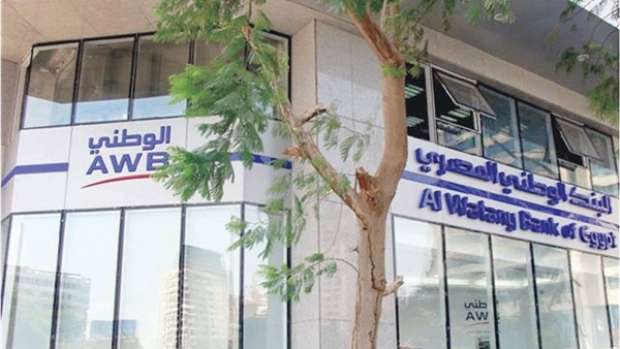 Al Watany Bank of Egypt
So what role exactly did Mallawany have in the sale of Al Watany Bank of Egypt?
In further comments Col. Marzouq had this to say: "It was he who proposed the idea later agreed upon between him and Ayman Ahmed Fathi Hussein, then the chairman of the Al Watany Bank. This included an agreement on a controlling stake of the Al Watany Bank that helped Mallawany and Ahmed Naim Badr, then Managing Director of Naeem Holding, to join its board of directors as representatives of that stake, thus benefiting in the biggest possible way from the shares they held."
As a result of all this, Ahmed Hassan Qura, then an Al Watany Bank director, was forced to resign after he received compensation for previously contracted services.
Mallawany used separate companies affiliated with Hermes Holding, which he oversaw as an Executive Director, to trade in these stocks in a way that strengthened the demand for Al Watany Bank's shares. This was done with the services of a strategic investor to sell the shares, creating huge profits as a result.
Case details
In the casefile that was obtained by both reporters, the public prosecutor had accused Mallawany of the following charges:
"The sixth suspect, Gamal Mubarak, had partnered up with the third suspect, Mallawany, to commit illicit profiting, a crime described in the fourth clause. This was done by way of forming a controlling stake in the Al Watany Bank. He then helped Mallawany in his capacity as a strategic shareholder in the Bullion company – which holds stakes in the Hermes direct investment company that manages the Horus 2 fund. He ordered it to purchase stocks in the Al Watany Bank through Horus 2. This allowed him and his company to illicitly profit to the tune of EGP 414,407,130 - an amount equaling over $46,000,000 as per today's exchange rate. A crime thus took place based on that agreement and collaboration, as outlined in the investigations."
The public prosecution's indictment text stated: "Gamal Mubarak worked with the third suspect Yasser Mallawany by agreement and collaboration to commit the crime described in the third clause. He agreed with him to form a controlling stake in the Al Watany Bank shares, and helped him by assigning Hermes, the direct investment company that manages the Horus 2 fund, to purchase shares in the aforementioned bank, acquiring for himself and the company in which he holds shares, profits worth EGP 493,628,646 ($55,608,229 in 2016). Thus a crime took place based on that agreement and collaboration as outlined in the documents."
The seventh suspect in the case, Alaa Mubarak, worked with the third suspect, Mallawany, by agreement and collaboration to commit the crime described in the fourth clause, by agreeing with him for the latter to allow him to profit illicitly and to supply him with insider information, namely regarding an agreement among senior shareholders in Al Watany Bank to sell it to a strategic investor.
Alaa Mubarak thus purchased 290,000 shares in the bank though the account of his wife Haidi Mohammed Magdi Rasekh – who was cleared of any criminal involvement during the course of the investigation.
This allowed him to make a profit of EGP 12,335,442 ($1,389,611), which was the difference between the purchasing price of the shares and their value at resale. The amount was transferred from his wife's account to his personal account at Al Watany Egypt, thus becoming a crime based on the agreement and collaboration as outlined in the documents.
Travel ban
On February 5, 2011, nearly 10 days after the outbreak of the Jan. 25 revolution and shortly before the ouster of Mubarak and the symbols of his regime, authorities at Cairo Airport prevented Mallawany from boarding his plane bound for Dubai.
After going through security clearance, he was surprised to find a decision from the Egyptian public prosecutor at the time, Abdul-Magid Mahmoud, banning him from travel. He was detained until March 2012, when he was able to leave Egypt on a private plane to an unknown destination.
On 31 May, 2012, the public prosecutor referred Egyptian businessman Hassan Haikal, son of the late journalist Mohammed Hassanein Haikal, and Mallawany, to criminal court on suspicion of corruption related to the sale of Al Watany Bank, co-owned by the state and subject to the supervision of the Central Bank. According to charges pressed against Mallawany and others, the sale of the bank had led to the misappropriation of over EGP 2.051 billion ($ 231,049,149).
Mysterious Empire
Despite the discovery of the stock exchange manipulation – itself a case still being investigated by the courts – and exposing the partnership between Mallawany and the sons of Mubarak, this investigative report has further exposed a widespread network built by Mallawany that links him to leading businessmen in Egypt and beyond. At this point in time it is safe to refer to his enterprises as a business empire that comprises at least ten companies which includes:
- SCI MELLO is headed by Mallawany. It is a financial company based in France since 2009 and owned in partnership with a woman named Fatima Hamed.
- MELLO YACHTS LIMITED is owned by Mallawany. It is based in England and was established in 2009 as ATLANTICA YACHTS LTD before changing its name in August 2009. This company is held in partnership with Philip Khoury, a British resident of Turkey. It ceased to operate in November 2011.
- COMMERCIAL INTERNATIONAL INVESTMENT COMPANY SAE is a commercial investment company based in Cairo. Mallawany was its vice chairman while it was owned by the Egyptian National Bank.
- PICO MODERN COMPANY FOR AGRICULTURE SAE, an industrial company with operations in ​​agriculture in which Mallawany was a member of the Board of Directors. Among its prominent owners are Tawfiq Salahuddin Diab and Ms. Inayat Said Taweel, both children of businessman Salah Diab and his wife.
- Mallawany also sits on the board of JUHAYNA FOOD INDUSTRIES SAE, a food company managed by businessman Safwan Thabet. He is partner in HORUS FOOD & AGRIBUSINESS MANAGEMENT LIMITED, registered in Cyprus and owned by the company EFG - HERMES PRIVATE EQUITY LTD.
- The reporters also obtained documents showing Mallawany's ownership of companies in Egypt, including Wings Imperial for Hotels. In those, he partnered with Naguib Sawiris, Prince Bandar bin Mohammed Abdulaziz, Tawfiq Salah Diab, Yassin Lotfy Mansour, Mona Makram Obeid. Documents also proved his ownership in the Palm Hills Development Company SAE, held in partnership with businessman and former Minister of Transport Mohamed Lotfi Mansour and Shihab Mazhar Mohammed al-Amin. The company was established in 2006.
- Mallawany also co-owns Shehab Maritime & Oil Services Co. MARIDIVE, a petroleum services company, with Mohammed Nadim and Sahar al-Sallab. It is based in Alexandria since its establishment in 2001.
- Documents obtained by the authors of the investigation from the Lebanese Company Register show Mallawany is a partner in several companies in Lebanon, where he chairs the board of directors of (Hermes CL Holding). Along with investor Hassan Mohamed Hassanein Heikal, son of the late journalist Mohammad Hassanein Heikal, the company was registered at the beginning of October 2010 under file No. 1901855. Mallawany's name is listed as a director for the Beirut-based Lebanese Credit Bank -- CREDIT LIBANAIS SAL.
These interlinked ties between businessmen and men in power are a clear example of the marriage of money and power under Mubarak. Many secrets of that period are yet to be revealed, but these leaks and documents, previously unavailable, have shed some light on this mysterious chapter of Egypt's history.
Throughout this investigation, both reporters sought to reach Mallawany and his lawyer for comment. Both Mallawany and his lawyer received their questions through registered mail sent via TNT and were given the chance to comment on the documents and information. But neither responded within the deadline stated in the letter sent by both reporters.
This investigation was completed with the support of Arab Reporters for Investigative Journalism (ARIJ) -. www.ari.net and coached by Hamoud al-Mahmoud.