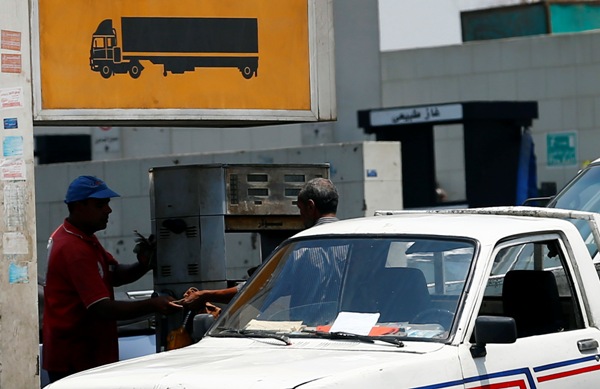 A man pays for fuel at a petrol station in Cairo July 6, 2014. REUTERS/Amr Abdallah Dalsh
CAIRO, Dec 22 (Aswat Masriya) – The sum of Egypt's oil subsidies could decrease by up to 30 percent during the second half of the fiscal year 2014/2015 should the worldwide drop in oil prices persist, the petroleum minister said on Monday.
Egypt's Petroleum Minister Sherif Ismail said in a statement that oil subsidies could drop to 70 billion Egyptian pounds during this fiscal year in light of the falling oil prices.
The government has allocated 100 billion pounds (around 14 billion U.S. dollars) for oil subsidies in the state budget for the fiscal year 2014/2015, the minister said.
"The state would still be largely subsidising [oil products]," Ismail said.
Oil prices dramatically dropped worldwide during the past six months, almost by 46 percent, with no sign from oil-producing countries of an intention to slow down oil production and control the drop in prices.
The falling prices nevertheless would not reflect on oil prices in Egypt, since the government fixes oil prices within the domestic market.
Egypt's government has already reduced petroleum subsidies and introduced new taxes in July, hiking fuel prices by up to 78 percent.
Almost one-fifth of Egypt's state spending goes to energy products' subsidies. The state has launched a plan to rid it completely of energy subsidies within three to five years.
(U.S dollar= 7.15 Egyptian pounds)