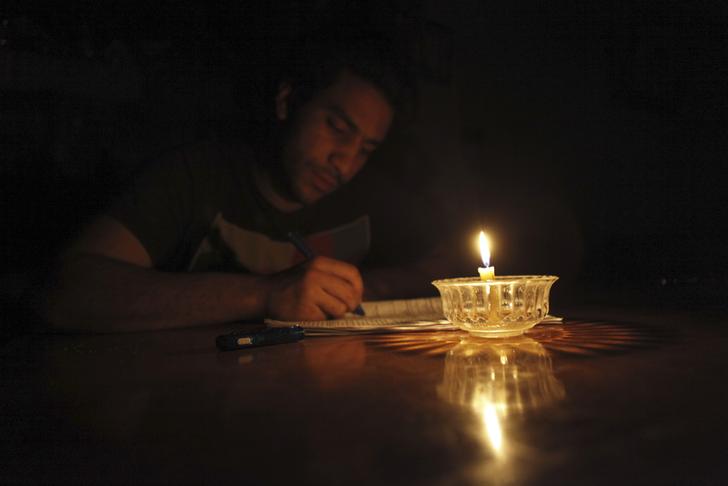 Mostafa Khaled, 20, studies by candlelight for his early morning exams during a power cut in Toukh, El-Kalubia governorate, about 25 km (16 miles) northeast of Cairo May 26, 2013. REUTERS/Amr Abdallah Dalsh
CAIRO (Reuters) - Power cuts hit many parts of Egypt on Thursday, causing blackouts and halting some public transport in the Arab world's most populous country.
Energy is a politically explosive issue in Egypt, where power cuts have become commonplace even in the capital Cairo.
Blackouts deepened discontent with Islamist President Mohamed Mursi before then army chief Abdel Fatah al-Sisi ousted him last year following mass protests. Although Sisi's supporters credit him with a magic touch, there is no instant solution to the decrepit state of the power grid, a glaring example of decades of mismanagement.
Power cuts are expected to be one of his biggest challenges.
The Ministry of Electricity said Thursday's blackout was due to "a sudden technical malfunction in a circuit west of Cairo".
Electricity shortages mean the country often has intermittent outages for hours a day, even in upscale neighbourhoods.
Eyewitnesses reported that subway stations without power were extremely congested.
The ageing state-run infrastructure is increasingly unable to handle the burden of rapidly growing demand for electricity in a country of 85 million people. Gas shortages have also worsened in recent years as dwindling local production has failed to meet domestic demand and export commitments.