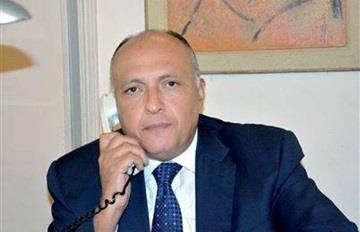 Egyptian Foreign Minister Sameh Shokri - Foreign Ministry handout
CAIRO, Dec. 30 (Aswat Masriya) - Egypt's foreign minister traveled to Saudi Arabia to discuss bilateral relations and regional issues, mainly the situation in Syria, Libya and Yemen, Egyptian Foreign Ministry Spokesman Ahmed Abu Zeid said.
Sameh Shoukry will meet with Saudi Crown Prince Mohammed bin Nayef, Deputy Crown Prince Mohammed bin Salman and Foreign Minister Adel al-Jubeir, the ministry spokesman added in a press release made available to Aswat Masriya.
The spokesman added that the strengthening of bilateral relations at all levels will top the foreign minister's agenda.
Egypt has enjoyed the support of Saudi Arabia, as well as of Gulf neighbours Kuwait and the United Arab Emirates, since the military's ouster of Mohammed Mursi as president in July 2013 following mass protests against his rule.
During the Egypt Development Conference held in the Red Sea resort of Sharm el-Sheikh in March 2015, Saudi Arabia pledged $4 billion in investments in and assistance for Egypt, including $1 billion which will be deposited in the Egyptian central bank, while the rest will be in the form of investments.
In August, the two states signed the "Cairo Declaration", stipulating that both countries would work on developing military, political, cultural, media and economic cooperation, and would demarcate their common maritime border. The conference also resulted in the establishment of the Saudi-Egyptian Coordination Council, tasked to implement the declaration's principles.
More recently in mid-December, Saudi King Salman bin Abdulaziz al-Saud ordered the increase of Saudi investments in Egypt to above 30 billion Saudi riyals ($8 billion) and pledged to contribute to providing Egypt with petroleum needs for the next five years. The Saudi king's decision came one day after Saudi Arabia launched Saudi-led "Islamic alliance" to fight terrorism, made up of 34 countries including Egypt.
Saudi financial assistance now comes at a time when Egypt's cash-strapped economy is in dire need. Years of political turmoil have taken a toll on the Egyptian economy, halving the state's foreign reserves and driving away tourists, which has contributed to a dollar shortage.
Saudi and UAE support to Egypt came at a time when the historic, 30-year US-Egyptian ties are witnessing a state of flux particularly after Mursi's ouster in mid-2013.
Shoukry's visit to Saudi Arabia comes at a time when Turkish President Recep Tayyip Erdogan is also on a Riyadh visit that began Tuesday. Saudi Foreign Minister Jubier told a joint news conference after a meeting between the Saudi King and Erdogan that the meeting "produced a desire to set up a high-level strategic cooperation council between the two countries."
Erdogan has been openly critical of Mursi's ouster and the two countries' relations have worsened since.