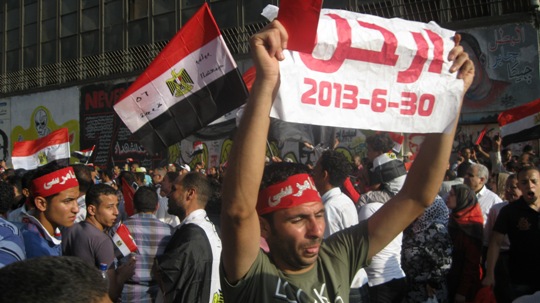 Anti-Mursi protests in Tahrir Square on Sunday, June 30, 2013 - Saif Eldin Hamdan/Aswat Masriya
By John Lloyd
CAIRO, July 1 (Reuters) - I've been in Egypt the past few days to witness the Egyptian people's indignation at their president, Mohamed Mursi. But where best to watch? On Sunday I joined a march from a metro station in Cairo's Heliopolis district to the presidential palace. My fellow journalist Abdallah Hassan thought Tahrir Square would be jammed full early, and that the palace would be where the real action - different from what preceded the ousting of President Hosni Mubarak two and a half years ago - would be.
It proved to be, in part. The two or three thousand of us who had emerged from metros in the early afternoon heat swelled to many tens of thousands in the evening. Marchers came from every direction, packing into the wide boulevard before the palace complex. In all of Egypt's cities, the same scenes were repeated. It was one of the biggest, best coordinated protests of our times, much larger than those that swept out Mubarak. Reuters quoted a military source who estimated as many as 14 million turned out countrywide.
It was a party, a joy ride, an effusion of spirits. It was led by young men who went down a list of rhyming couplets while seated on the shoulders of sweating comrades. "Shout, Mursi! This is your last day!"; "We don't want the military! We don't want the Brotherhood!"; "Shave your face and you're like Mubarak!"; "You spare tire! We'll send you back to jail!" and "Look and see! The revolution, you sheep!" (They rhyme in Arabic.)
The day was remarkable for its complete lack of police or army. Only at one gate to the palace, with steel barriers and barbed wire coils, were half a dozen presidential guardsmen in riot gear standing behind it. As the demonstrators screamed, officers wore expressions of unworried contempt. Helicopters circled low overhead at intervals, presumably recording the crowds.
As darkness fell, the screaming, fireworks, blowing of horns and the banging of drums attained, at times, a perfect wall of infernal sound. It was as if the demonstrators were seeking to exorcise a demon, not force a president out. It reminded me of the biblical Joshua at the Battle of Jericho, who by the blow of his horns and the shouts of his army caused the walls to tumble down. By this time, the slogans had been narrowed down to one shout, over and over: Leave!
This was day one of what is advertised by the opposition National Salvation Front as a campaign to rid Egypt of its first properly elected president, a man of woeful incompetence, but with three years left to run of his mandate. Struggling back into the center on a groaning metro, Abdallah and I wondered what we would do if we were Mursi. Abdallah, with more at stake, said brusquely, "Leave!"
I think Mursi will do two things. First, somehow restate his legitimacy and his mandate. Second, say that his door is always open to talks and compromises: indeed, by late evening, his spokesman was on TV saying just that.
The journalist and publisher Hisham Kassem, a stubborn democrat, told me that "the opposition has the judiciary, the politics and the media: the Brotherhood has the electoral organization." But, he added, the latter would not be enough this time. Such is the tide of anger, cutting across classes. The poor are suffering the most, as ever; but the rich and the professionals are scorning the pious provincials, energetically waving opposition banners from the windows of their BMWs.
Pious provincials make up millions of Egyptians, as the election of Mursi showed - he is one himself. But can they save him now? Even discounting the impression made by the vast outpouring of human bodies on Sunday, it seems unlikely. Looking at the stout walls of that vast presidential palace, I couldn't imagine that its present occupant was not long for its cool halls. The larger question beyond this weekend is who can occupy it with enough determination, steady support and intelligence to put Egypt through reforms that shake a social fabric sewn of 60 years of military authoritarian rule?
One image during the protest was particularly resonant: the toy sheep. The opposition represents the Muslim Brotherhood, Mursi's party, as sheep who follow the dictates of the Brothers' supreme leader, Mohamed Badie, believed to be the one who gives Mursi his orders.
I talked about this with a middle-aged and well-dressed throat specialist who worked at a teaching hospital some 300 kilometers from Cairo. (He did not wish to give his name.) He interpreted Mursi's puppetry through a religious lens: He said Muslims pray directly to god, without the intercession of some so-called figure of authority. "He does not tell us how to pray!" he said with some force. "My religion is a private matter, not something to be imposed."
A Protestant would have said reasoned the same way to a Catholic when that distinction mattered in Europe. In fact there were many pious men and women on the streets in Egypt; a few women in niqabs, nearly all in scarves. As I left a Kentucky Fried Chicken on the edge of the vast demonstration, a customer was praying as best he could in the crowded restaurant, among the greasy papers on the floor.
(John Lloyd co-founded the Reuters Institute for the Study of Journalism at the University of Oxford, where he is Director of Journalism. Lloyd has written several books, including "What the Media Are Doing to Our Politics" (2004). He is also a contributing editor at FT and the founder of FT Magazine.)