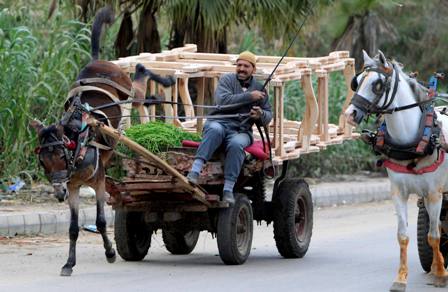 A carpenter rides a cart carrying woodcraft to a workshop as a horse kicks its hind legs in Damietta, 100 km (62 miles) from Cairo, January 5, 2013. REUTERS/Mohamed Abd El Ghany
CAIRO, Feb 20 (Reuters) - One of the most powerful figures on the global wheat market, Nomani Nomani, said on Wednesday he has left his job as vice chairman of Egypt's state grains buyer GASC, at a time when the country is struggling with falling foreign currency reserves.
For more than three years he has overseen strategic buying for the world's biggest importer of wheat, and the government stressed on Wednesday that the country had ample stocks for production of bread, the national staple.
"I got promoted to become an adviser to the minister of trade and supplies, which means that I will no longer handle the wheat bidding and buying process, starting now," Nomani told Reuters.
Nomani said Mamdouh Abdel Fattah had taken over as acting deputy head of the GASC (General Authority for Supply Commodities) for a period of one year, but it was not yet clear if this was renewable or not.
Egypt's foreign currency reserves have fallen to $13.6 billion, less than the $15 billion needed to cover three months' worth of imports. In an attempt to control the rate of a drop in the Egyptian pound's value, the central bank introduced regular dollar auctions in December.
The Egyptian economy has been hit by more than two years of turmoil since the popular uprising that swept Hosni Mubarak from power in February 2011. The unrest has driven away tourists and investors.
Central bank governor Hisham Ramez said this week that he had taken steps to prioritise certain imports including foodstuffs, production machines and their spare parts, and fertilisers.
The cabinet said on Wednesday that Egypt already had stocks of wheat to last 101 days and this would rise to 126 days as more imports arrive.
GASC set a tender on Tuesday to buy an unspecified amount of wheat from global suppliers for April 10-20 shipment.