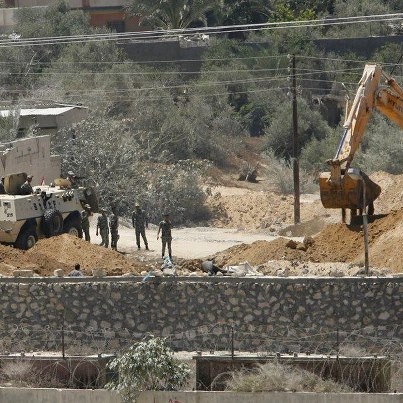 (Archive) Army forces supervise the process of demolishing tunnels in North Sinai - Aswat Masriya
NORTH SINAI, Aug 20 (Aswat Masriya) - Two "terrorists" were killed in North Sinai's in an extensive security campaign on Wednesday, the armed forces spokesman said on his official page.

The security forces arrested 66 wanted people in three governorates, Mohamed Samir added.

Sixty-eight people who tried to illegally emigrate were also arrested.

The army also destroyed eight tunnels used for smuggling in Rafah.

The spokesman added that eight cars and 27 motorbikes without licences that have been used in militant operations against security forces were destroyed.

The Egyptian security forces are currently waging an extensive security campaign in Sinai to counter militants' attacks targeting the army and police, which have risen sharply since the ouster of President Mohamed Mursi last year.