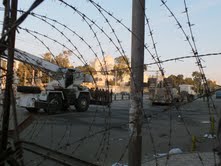 Military forces at the presidential palace on December 6, 2012 - Aswat Masriya
Egypt's Military Corps of Engineers built a concrete wall on Friday morning at Heliopolis Club in front of the presidential palace in Cairo amid heavy deployment of the Republican Guard around the palace, the state news agency reported.
Political and revolutionary powers had called for organizing protests and marches on Friday heading from different squares, including Tahrir Square, towards the palace to demand annulling President Mohamed Mursi's constitutional decree as well as the referendum scheduled for December 15.
The Republican Guard restored peace on Thursday to the area surrounding the palace following violent clashes that erupted on Wednesday leaving six people dead and hundreds injured.