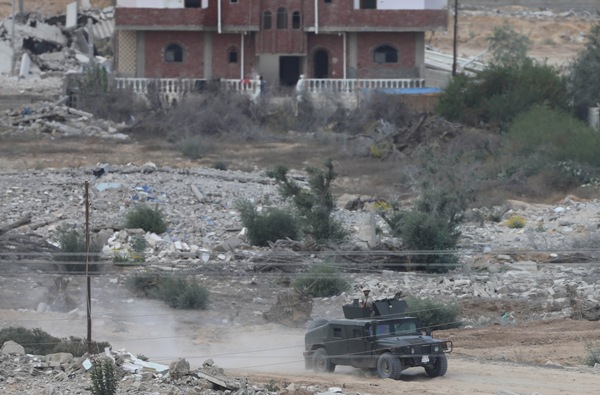 An Egyptian soldier keeps guard during a military operation in the Egyptian city of Rafah, near the border with the southern Gaza Strip October 30, 2014. REUTERS/Ibraheem Abu Mustafa
CAIRO, Jan 29 (Aswat Masriya) - A decapitated body was found in North Sinai's Sheikh Zuweid city, a security source said on Thursday.
The police source told Aswat Masriya that the deceased was from one of the tribes of Sheikh Zuweid.
Several beheaded corpses have previously been found in the Sinai Peninsula towards the end of 2014.
In August, four such bodies were found. Ansar Bayt al-Maqdis militant group claimed responsibility for their beheading for providing Israel with intelligence in a video they released.
Militancy has surged in Egypt since July 2013, with Sinai being the most affected. Security forces have been the target of most attack.
The armed forces are responding with a stringent security crackdown.
Ansar has claimed responsibility for more attacks than any other militant group, including an attempt on Interior Minister Mohamed Ibrahim's life in September 2013.
The group pledged allegiance to the Islamic State fighters in Syria and Iraq and renamed itself the Sinai Province in November.
In a video on January 21, the group vowed to continue attacks against the Egyptian army.