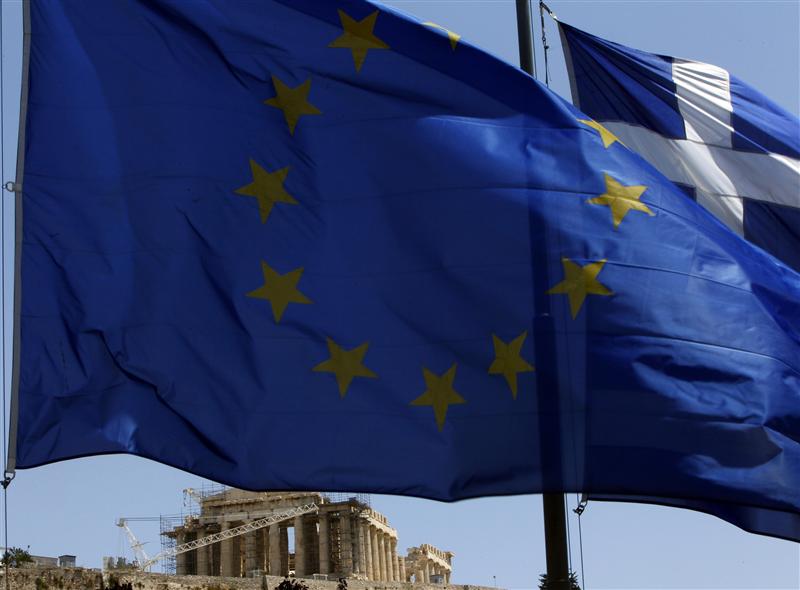 A European Union (E.U.) flag (front) and a Greek flag flutter in front of the monument of Parthenon on Acropolis hill in Athens June 17, 2012. REUTERS/John Kolesidis
The European Union (EU) will offer Egypt more than 6.5 billion euros in the form of grants and soft loans with long grace periods, the Federation of Egyptian Chambers of Commerce said on Thursday.
This comes in conjunction with the International Monetary Fund's (IMF) deal.
President of the European Council Herman Van Rompuy has said these funds will be given to Egypt during the 2012/2013 fiscal year, the federation said in a statement reported by the state-owned news agency MENA.
These funds were agreed upon during the EU-Egyptian action plan that was held in Cairo on 12-13 November 2012 to back the democratic transition process.
Rompuy pointed to the importance of creating trust among all sides to find a way out of the current economic crisis that is aggravating due to the opacity of the political situation, adding that the economy should be given the same amount of attention given to politics.
The economic reform programme in Egypt is being negotiated with the IMF, Rompuy said.
Procrastination is not the best solution because the IMF deal will restore confidence in the Egyptian economy and provide the necessary funding for economic and social revival, he added.
The EU is the top trade, tourism, and investment partner to Egypt since it provides more than 80 percent of the direct foreign investments in Egypt, head of the Federation of Egyptian Chambers of Commerce Ahmed al-Wakeel said.