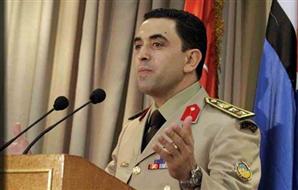 Colonel Staff Ahmed Ali, spokesman of the Armed Forces - Ahram
Egypt's army reaffirmed on Sunday that it does not intend to nominate a candidate for the next presidential election, its spokesman said.
The statement came in response to a campaign calling on Defense Minister Abdel Fattah al-Sisi to run for presidency.
Many Egyptians started to see Sisi as a hero after the army ousted Islamist President Mohamed Mursi and started a crackdown on his supporters and the group he belongs to, the Muslim Brotherhood.
Spokesman Ahmed Mohamed Aly told Al-Arabiya that the army's stance on the subject is final and that it will not be part of Egypt's political life.