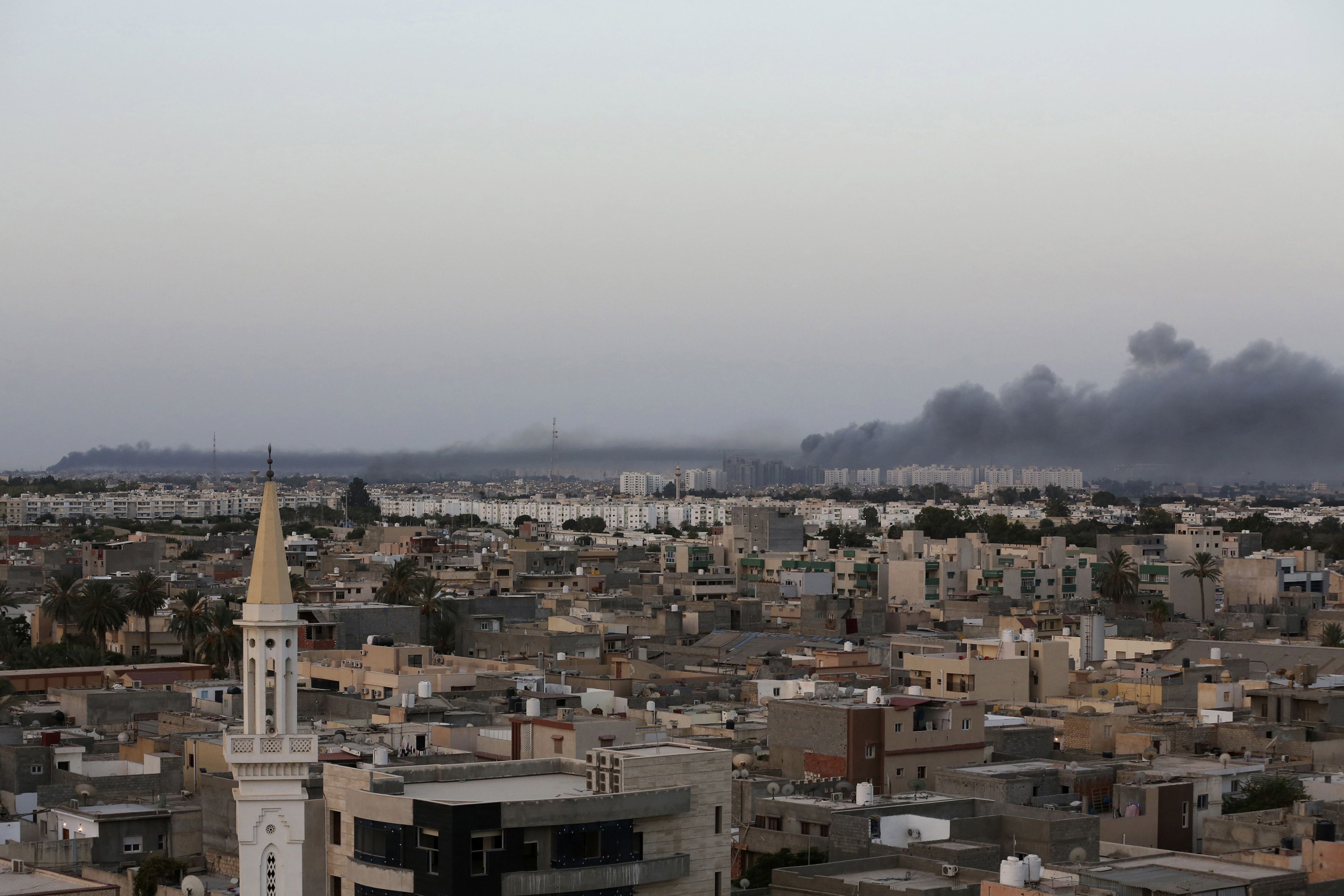 Plumes of black smoke (R) is seen after war planes struck Misrata positions in Tripoli in an attack claimed by renegade general Khalifa Haftar, August 23, 2014. REUTERS/Stringer
CAIRO, Aug 24 (Aswat Masriya) – Egypt did not conduct any military operations in Libya, President Abdel Fattah al-Sisi said on Sunday.
In a meeting with newspapers' chief editors, the president denied that Egypt has conducted any military operations outside its borders "as of yet," reported state-run news agency MENA.
"There aren't any Egyptian forces in Libya," Sisi said.
The president said that Egypt is concerned with the security and safety of Libya, reported MENA. He added that Egypt has held discussions with Algeria, Tunisia and other neighbouring countries to achieve stability in Libya.
Militant fighting in Libya has recently intensified in measures unprecedented since the overthrow of late Libyan President Muammar Gaddafi in 2011. Army general Khalifa Haftar declared war on Islamist forces within Libya since May.
Forces in the Libyan City of Misrata blamed Egypt and the United Arab Emirates for airstrikes which targeted the Libyan capital on Saturday. The forces said they were citing a report prepared by Libyan Air Force which identified an Egyptian F16 fighter jet and an Emirati Airbus A330 MRTT as planes penetrating Libya's airspace.
Sager al-Jouroushi, Haftar's air defence commander, told Reuters Haftar's forces were responsible for the attacks.
Egypt's ministry of foreign affairs denied the incident completely, describing the news as "baseless".
"The ministry is closely following up with the political and security situation in Libya," read a ministry statement released on Sunday. The ministry said it is looking forward to the swift formation of a national government.
The situation in Libya has prompted thousands of Egyptian nationals who worked in Libya to flee the conflict-torn country. An emergency airlift set up by the Egyptian government to transport stranded Egyptians from the Ras Jedir border crossing between Libya and Tunisia has transported over 14,000 nationals.
In an interview with Reuters in May, Sisi referred to Libya as a "security threat" Egypt faces, especially in regards to combating terrorism.