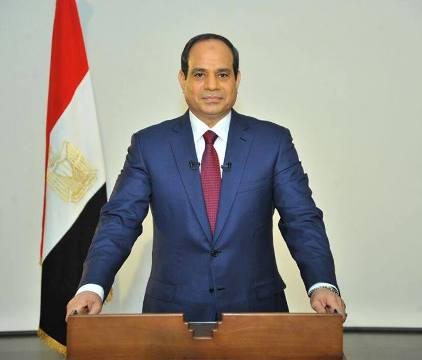 Egyptian President Abdel Fattah al-Sisi addresses the nation in a speech - Handout
CAIRO, Sept 22 (Aswat Masriya) – After a hundred days of presiding over Egypt, former army general Abdel Fattah al-Sisi's popularity remains high, with 82 percent of Egyptians satisfied with his performance, according to a Baseera poll.
Baseera, the Egyptian Centre for Public Opinion Research, said in a poll released on Monday that only five percent of the sample it interviewed over the phone said they were unhappy with the new president's performance. Thirteen percent of the sample said they couldn't identify their position.
The percentage of satisfaction was the same as that recorded in an earlier Baseera poll, conducted on August 31 to mark eighty days of Sisi's presidency.
Sisi's performance rate was higher than that of ousted Islamist President Mohamed Mursi. Baseera had conducted a similar poll for Mursi's performance after the first 100 days of his tenure in 2012; 78 percent of the sample had voiced their satisfaction with the ousted president's performance.
Seventy-eight percent of the sample said they would vote for Sisi should the presidential elections be held again the next day, while 58 percent had said they would vote for Mursi in the 2012 poll. Eight percent said they wouldn't vote for Sisi, and 14 percent said their vote would depend on other presidential candidates who will run against him.
Sisi's popularity among the youth (aged 18-29) who took the sample was lower than that among the elderly (aged 50 years and above). Forty-one percent of the youth sample interviewed was satisfied with the president's performance, compared to 72 percent of the elderly sample.
The poll was conducted nationwide on a sample of 1795 citizens aged 18 and older.
Sisi swore the republican oath on June 8, after winning the presidential elections in a landslide victory, reaping over 96 percent of the valid votes.
He gained nationwide popularity after announcing Mursi's ouster on July 3, 2013. Sisi was then minister of defence.