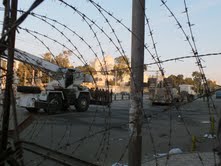 Military forces at the presidential palace on December 6, 2012 - Aswat Masriya
Presidential Advisor for Political Affairs, Bassam al-Zarqa, said on Sunday that he blames Saturday's attack on protesters by the presidential palace on "unknown perpetrators" who are trying to hinder Egypt's democratic progress.
Zarqa told Anadolu news agency on Sunday that "unknown perpetrators have started appearing at the first attempt of building state institutions."
Sources from the presidency had recently announced that procedures of parliamentary elections would begin on February 25.
Politicians and media outlets had blamed "unknown perpetrators" for violence that took place during the January 25 uprising that toppled Hosni Mubarak.
Zarqa asked those in charge of Egypt's security to reveal the identity of the perpetrators and capture them immediately.
He pointed out that no one has yet been persecuted for the reoccurring violence as it continues, arguing that whenever calm prevails, "someone sparks the fire."
On a different note, he criticized protesters for choosing the presidential palace as a location to hold a sit-in, pointing to Tahrir as a better alternative.

Fifteen people were injured in clashes on Saturday evening when unknown assailants fired shots and Molotov Cocktails at protesters by the presidential palace, according to health sources and eyewitnesses.
Tens of protesters began a strike by the palace in November against a constitutional decree issued by President Mohamed Mursi.