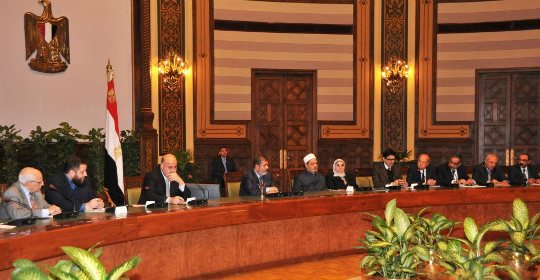 President Mohamed Mursi at a national dialogue session with some political powers and a wise men committee on December 8, 2012 - photo from presidency
Egypt's presidency on Monday said it invites all national powers with their different spectra to a national dialogue session on Tuesday, adding that the session will be aired live.
The session will have discussions of guarantees for ensuring the integrity and transparency of the parliamentary elections scheduled to start on April 22.
The dialogue will also include all suggestions and proposals which different political powers offer to guarantee the objectivity of the electoral process.
In a statement on its Facebook page, the presidency said the session will be held on Tuesday at 5.30 p.m. at Ettihadiya presidential palace in Cairo.
A detailed report on the session will be sent to the Higher Elections Commission.