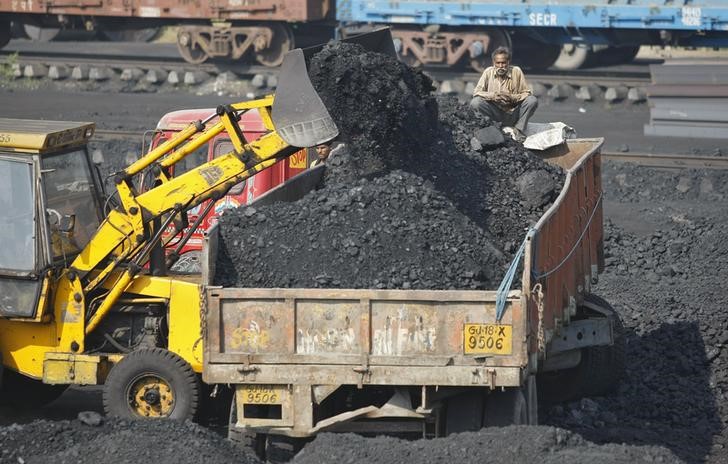 A worker sits on a truck being loaded with coal at a railway coal yard on the outskirts of the western Indian city of Ahmedabad November 25, 2013. REUTERS/Amit Dave
CAIRO, Dec 16 (Reuters) - Suez Cement, Egypt's largest listed cement maker by market value, said on Tuesday it planned to spend 600 million Egyptian pounds ($84 million) in 2015 on equipping two factories to run on coal due to the country's energy crunch.
Egypt is battling its worst energy crisis in decades. Rising consumption and decreasing production have turned it into a net energy importer in recent years and caused regular blackouts.
The cabinet approved the industrial use of coal in April and companies are now in the process of fitting their plants to run on imported coal, a move Suez has said should help boost output and reduce costs.
The company posted a 40.5 percent rise in third-quarter profit last month after it managed to pass on higher production costs to consumers.
But nine-month profit fell 14.6 percent on last year, hit by severe energy shortages which forced the company to cut output by 40 percent so far this year.
CEO Bruno Carre said in a statement to the bourse the firm would develop its Helwan and Tora 2 factories "to use coal and residues to compensate for the lack of energy supplies."
Suez Cement was one of the companies affected when the government cut natural gas supplies to factories in January and has had to import clinker at higher cost.
The government's move was aimed at preserving natural gas for power generation, to avoid blackouts and public unrest. It led cement companies, including Suez, to renew a demand to use coal for power generation.
The company has said it would begin using coal during the next two years while working to diversify its energy mix by adding waste-derived fuel in its factories.
($1 = 7.1500 Egyptian pounds) (Reporting By Stephen Kalin, editing by David Evans)