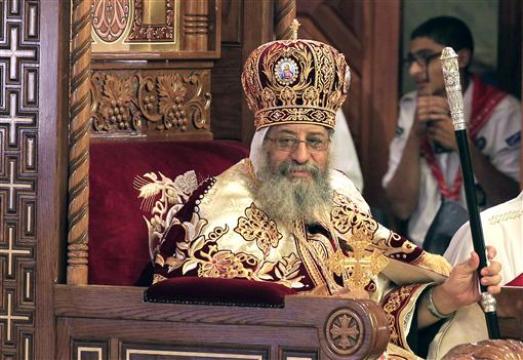 Pope Tawadros II, the new pope of the Coptic Orthodox church, attends his enthronement ceremony at St. Mark Cathedral in Abbasiya, Cairo November 18, 2012. The Coptic Orthodox church staged a ceremony rich in ritual on Sunday to install its pope, Tawadros II, who Christians hope will guide them through the new, Islamist-led Egypt - REUTERS/Mohamed Abd El Ghany
Pope Tawadros II addressed Egyptians on Sunday, saying that the country needs a new start and that protests must stop.
The church must steer away from politics except in defending equality, the newly-elected Pope said, telling the Coptic community that happiness is his message to them.
In an interview with Al-Jazeera, the Pope said his message to the people of Egypt is that the country "needs stability, especially two years after the revolution."
The Pope called on Egyptians to "start building the new Egypt".
Commenting on the church's stance regarding the new constitution, Pope Tawadros II said, "The church took part in drafting the constitution but quit at a certain point when it met obstacles as the constitution which is the source of legislation is against equality."
"Copts were marginalized under the former regime but after the January 25 uprising they were able to freely express their opinion like the rest of Egyptians," the Pope stated.
Pope Tawadros II said that he, along with all priests, is trying to commit to the church's spiritual and social roles.