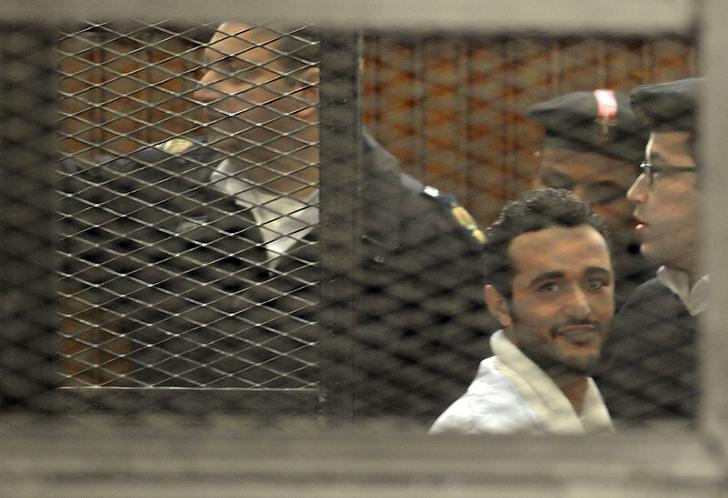 Political activist Ahmed Douma of the 6 April movement looks on behind bars in Cairo, December 22, 2013. REUTERS/Stringer
The Egyptian Lawyers Syndicate has supported a decision by the lawyers defending a prominent activist to withdraw from his ongoing trial, banning its members from taking the case in their stead.
The lawyers defending activist Ahmed Douma and 286 others on charges of attacking the cabinet building in 2011 have complained about their treatment by Cairo Criminal Court during the trial, and announced their withdrawal from the case on Saturday.
Following the announcement, the national Lawyers Syndicate issued a statement to the court saying that it had accepted their request to withdraw from the trial and had banned syndicate members from taking on the defence case.
Lawyer Taher Abul-Nasr told Ahram Online that a syndicate member could still take the case, but would be referred to the syndicate's ethical committee to face sanctions. According to Abul-Nasr, the case cannot be completed without a defence team.
Lawyers must be members of the syndicate in order to practice in Egypt.
In the last session on 12 November the court referred one of the defence lawyers, prominent leftist Khaled Ali, to the prosecution for questioning over "fomenting chaos in the courtroom."
Ali issued a statement at the time saying the judge had prior bias concerning a case still being reviewed, and had not heard the lawyers' defence, and had rejected a number of their demands to include certain documents in the case.
On Saturday the court, which is led by Judge Mohamed Nagy Shehata, referred the syndicate's statement to the general prosecution, deeming it "offensive."
The trial has been adjourned to 9 December. The court has asked the appeals court to assign another lawyer to the case.
Defendants in the case are accused of attacking the cabinet building and security personnel in December 2011, as well as torching the Scientific Institute in downtown Cairo during what became known as the cabinet clashes.
The violence was sparked when soldiers forcibly dispersed a three-week sit-in against military rule at the cabinet building. At least 18 were killed and hundreds injured in the violence which spanned five days.