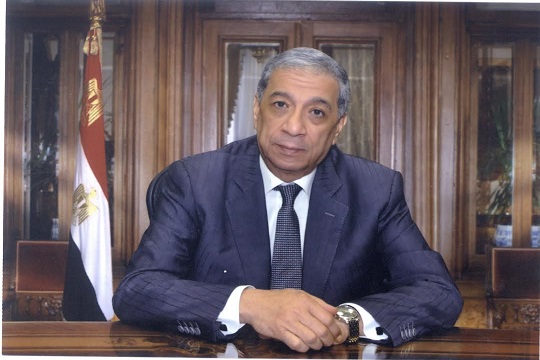 Egyptian Prosecutor General Hisham Barakat. ASWAT MASRIYA
CAIRO, May 18 (Aswat Masriya) Egypt's top prosecutor issued on Monday an arrest warrant against the chief editor of a newspaper for "publishing false news which would disturb public security, spread terror among citizens and harm the public interest."
Prosecutor General Hisham Barakat said in a statement published by his office that al-Bayan newspaper published on Monday a "false" news story on its website saying that six prosecutors were assassinated on the Cairo-Suez Road.
"The prosecutor general urges media outlets of all forms to adhere to the principles and values in the constitution and the laws when publishing news," the statement read.
The Egyptian constitution states that the freedom of the press is guaranteed. It also states in Article 71 that no freedom-restricting penalty may be imposed for "crimes of publishing." However, it does leave it up to the law to decide on the penalty undertaken for incitement and discrimination.
Barakat called on the Supreme Press Council to activate a code of ethics for journalism.

Egypt's Press Syndicate criticised the arrest warrant in a statement released by its secretary general late Monday.
The syndicate said that the arrest warrant violates two articles of the law organising journalism. It also noted that Egypt's laws ban preventive detention in cases related to publishing.
The syndicate must also be notified, in adequate timing, before any journalist is summoned for investigation, the syndicate said. It added that in this case, the prosecution only contacted the syndicate to enquire about the chief editor's membership.
Press freedom in Egypt has lately come under scrutiny. The state faced grave criticism after a Cairo court sent three journalists from the Qatari al-Jazeera network to seven to ten years in prison last June for defaming Egypt and spreading false news.
Two of journalists are currently being retried from outside court, while the third, an Australian national, was deported in early February.
The New York-based Committee to Protect Journalists (CPJ) sent President Abdel Fattah al-Sisi a critical letter of Egypt's media climate in March.
It said in the letter it would like to discuss with Egypt's presidency "the use of pre-trial detention, anti-terrorism laws, and the protest law against journalists."
The international press freedom advocate said it would also like to discuss the "increasing efforts to censor and surveil the Internet."