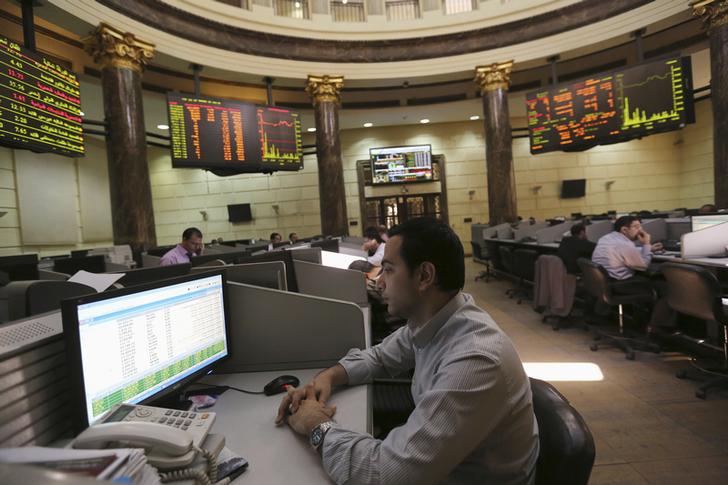 A trader watches his monitor at the Egyptian stock exchange in Cairo April 1, 2014. REUTERS/Mohamed Abd El Ghany
CAIRO, May 18 (Aswat Masriya) - The Egyptian government is suspending the application of the capital gains tax for two years, a government spokesman said on Monday.
The purpose of the suspension is to preserve the competitiveness of Egypt's financial market and investments pumped into it, cabinet spokesman Hossam Qawish said in a statement.
Shortly after the government's announcement, the EGX 100 index rose by 5 percent, for the first time since July 2013. Trading was suspended for half an hour.
Today's stock market session was opened at the presence of Egypt's premier and finance minister.
The stock market's main index closed at 6.5 percent, at 8798,17 points, a significant rise compared to the index's performance earlier this month.
Qawish said the cabinet has made instructions on the necessity of developing the stock market as a "platform" that can serve to finance the Egyptian economy, attract capital and contribute to economic development.
Taxes on dividends will continue to be applied, with the tax being collected only once and no tax will be collected on the net revenue.
Formerly, Egypt's stock market was free of any taxation on profits. However, last July, Prime Minister Ibrahim Mehleb applied taxes on dividends and capital gains, worth 10 percent each.
The new taxes came among a string of austerity measures the government adopted in July, including, reducing petroleum subsidies which hiked fuel prices by up to 78 percent.
The administration of President Abdel Fattah al-Sisi, now in power for almost a year, has largely focused on repairing Egypt's battered economy, which has been suffered heavily during the four years of political turmoil since an uprising toppled former president Hosni Mubarak in 2011.