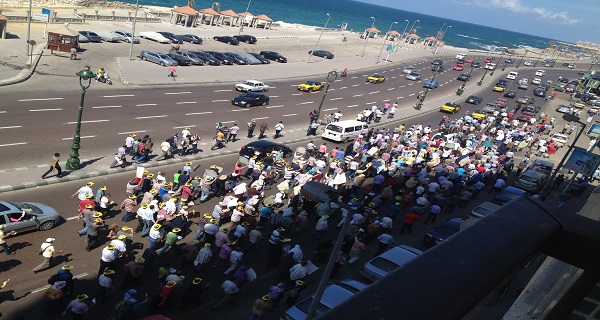 Pro-Mursi demonstrators march in Alexandria on September 20, 2013 - Aswat Masriya
Security forces fired teargas bombs at groups of demonstrators after allies and opponents of former President Mohamed Mursi clashed in Sporting area in Alexandria, an Aswat Masriya eyewitness reported on Friday.
Alexandria has been witnessing clashes and acts of violence, which escalated after Mursi was removed from power last July.
Several armed forces vehicles intervened to break up the clashes after the two parties exchanged stones and fired at each other.
Army forces are currently sweeping the area between Shatbi and Sidi Gaber in search of armed elements.
They also arrested a number of demonstrators involved in the clashes.