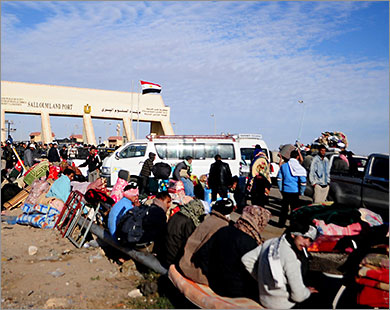 Egyptian Libyan borders - photo from Shorouk
Libya decided to close its border crossing with Egypt for security reasons until further notice, Libyian Prime Minister Ali Zidan said on Sunday as reported by the Middle East News Agency.
The decision came following the assassination of well-known politician Abdelsalam al-Mosmary as well as three others in Benghazi to prevent the perpetrators from fleeing through the borders.
According to Libya's decision, only cargo trucks are allowed to pass through the borders.
Zidan said that his country would coordinate with the Egyptian authorities to arrest any suspects who have already crossed into Egypt.