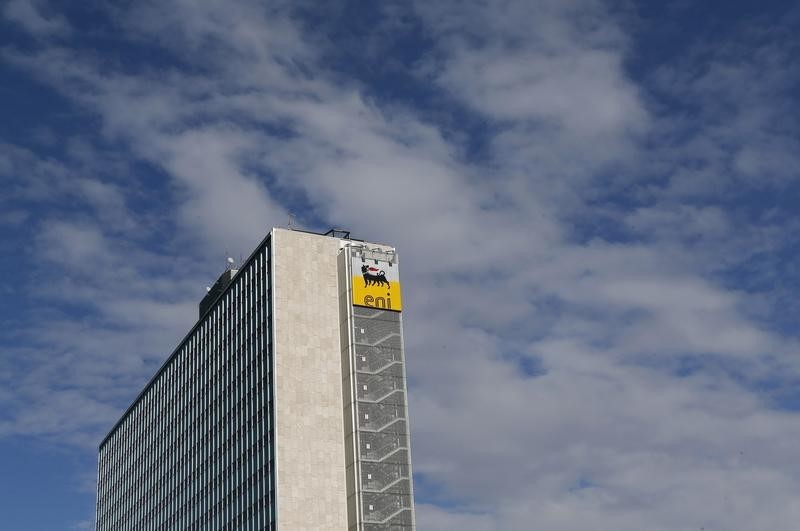 The headquarters of the Italian Eni gas company in Rome. Reuters archives
By Maha El Dahan
ABU DHABI, Nov 10 (Reuters) - Egypt is near an agreement with Italian oil major Eni to offer the company a more competitive price for the natural gas it extracts in the energy-short country, an Egyptian official told Reuters on Monday.
Mahfouz El-Bony, vice chairman for agreement and exploration at state-owned gas company EGAS, did not say what the new price would be or when the deal would be finalised. But he said the existing price of $2.65 per million British thermal units (mmBtu) was "not economically feasible" for companies.
"The price ... is not becoming competitive for investors to develop as the cost of drilling and the development plans is all increasing", he said, suggesting that the government may pay a higher price.
Bony, who was speaking on the sidelines of an energy event in Abu Dhabi, said the talks were related to Eni's offshore Mediterranean concession.
Eni was not immediately available for comment.
Steadily declining gas production and foreign firms' wariness about any increase in investment have combined with price subsidies and rising consumption to create Egypt's worst energy crisis in decades.
To lessen the severity of politically-sensitive power cuts, the government has diverted most of the gas produced by foreign firms and promised for export to meet domestic needs.
Now energy officials say the government is working to offer better terms to a number of companies extracting natural gas in the energy-short country in a bid to spur new investments.
Eni would be the second company to reach a deal over revised gas prices with the government. In June, Egypt agreed to a revised price with German oil and gas group RWE DE, but has yet to announce that price.
"(For) RWE, we have the new price but it still is subject to approvals from relevant authorities", Bony said.
The government awarded three new exploration licenses to Eni in September -- one in an onshore block in the Western desert and the others in Blocks 9 and 8 near Cypriot waters.
On Friday, the head of Egypt's state-owned oil company EGPC Tarek el-Molla said in a statement that talks were ongoing with BG, whose global business has taken a major hit this year as its output in Egypt halved.
Apache told Reuters last month that it hopes to reach an agreement with Cairo on higher gas prices by the end of the year. (Additional reporting by Stephen Jewkes in Milan; Writing by Maggie Fick; Editing by Louise Heavens)