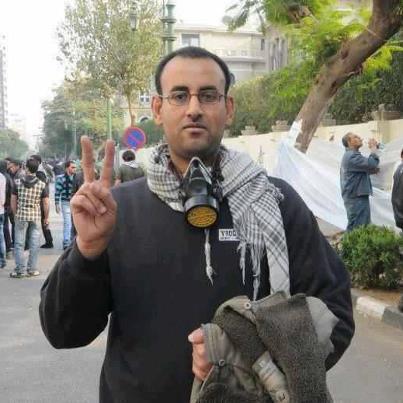 Egyptian Journalist el-Hosseiny Abou-Deif - Photo from Facebook
Hundreds of journalists staged a protest on Wednesday evening at the Journalists' Syndicate headquarters in Cairo to take part in the funeral of their fellow colleague al-Husseini Abou Deif of al-Fagr newspaper.
Abou Deif was shot in the head last week while covering news of clashes that occurred at the presidential palace for his newspaper. He died at al-Qasr al-Aini Hospital.
"Down with the rule of the (Muslim Brotherhood) guide" and "Head of the Journalists' Syndicate, who is to be held accountable for al-Husseini's death?" were among the chants of journalists against the Muslim Brotherhood, the Middle East News Agency reported.
A number of political figures participated in the protest including ex-MP Basel Adel, Emad Gad, Diaa Rashwan, journalist Mahmoud Bakri and writer Saad Hagras.
"We will retrieve the rights of our martyrs," Gamal Fahmi, first undersecretary of the Journalists' Syndicate, said.
The syndicate will organize a march next Friday to Tahrir Square under the title of "Revenge for al-Husseini and his brothers," Fahmi stated.