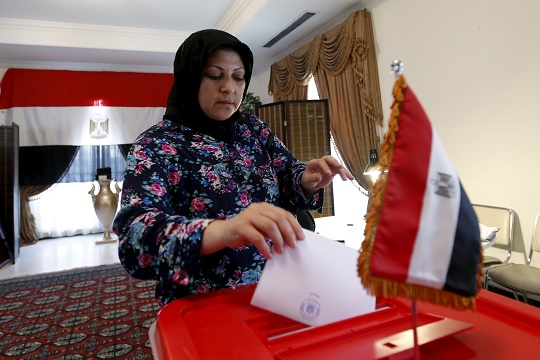 An Egyptian woman living abroad casting her vote in the first phase of the 2015 parliamentary elections, on Oct 18, 2015. REUTERS/
CAIRO, Oct 29 (Aswat Masriya) – A total of 19,835 Egyptian voters cast their votes abroad in the first phase run-offs of Egypt's legislative elections, according to the Supreme Elections Commission (SEC) Thursday.
This brings the turnout rate to just under 3 percent, a drop from round one which saw the participation of around 4.5 percent of more than 680,000 eligible voters in 139 countries.
Head of SEC Ayman Abbas said that the percentage of valid votes was 97.8 percent, leaving 2.2 percent invalid.
Kuwait had the highest participation rate in the run-offs, where 10,321 Egyptian voters headed to the polls, constituting 52 percent of the total number of voters.
Abbas pointed out that there are elections did not take place in Armenia, Bosnia, Vietnam, Panama, Thailand, Nigeria, Angola, Rwanda, Madagascar, Mauritius, where there are no eligible voters.
Run-offs of phase one of Egypt's House of Representatives elections saw a low turnout in most provinces inside Egypt Tuesday, and abroad where voting started on Monday.
Abbas had announced on Oct. 20 that only 30,531 Egyptians voted abroad in the first round.
Inside Egypt, the turnout rate of the first rounds was 26.56 percent with 7,278,594 Egyptians casting their votes out of a total of 27.4 million eligible voters.
The first phase covered 14 provinces including Giza, Fayoum, Beni Suef, Minya, Assiut, New Valley, Sohag, Qena, Luxor, Aswan, Red Sea, Alexandria, Beheira and Matrouh.
The second phase will run from Nov. 21-23 covering 13 provinces including Cairo.