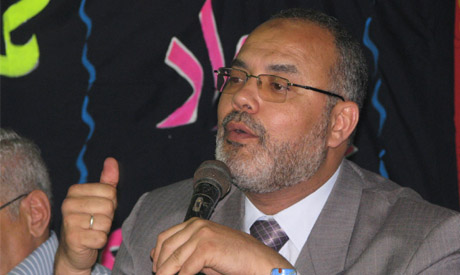 Saad El-Hussieny, Governor of Kafr El-Sheikh
Muslim Brotherhood member and Kafr El-Sheikh Governor Saad El-Hussieny denounced, Monday, a military police decision to release their dogs on a protest organised by Hamdeen Sabbahi's Popular Current movement, outside the delta governorate headquarters on Sunday night.

Three protesters were injured and one was hospitalised in the brutal canine attack.

"These things are not supposed to happen and I assure Kafr El-Sheikh of my appreciation of the residents," El-Hussieny posted on his Facebook page.

According to private satellite channel ONTV El-Hussieny was present at the scene and witnessed the events.

The incident started when the Kafr El-Sheikh chapter of the political movement organised a demonstration against what they dubbed the "Brotherhoodisation" of their governorate, following El-Hussieny's decision to hire five members of the Islamist group.

In response, members of the Brotherhood went to the government building to confront the crowd, reported ONTV.

Protesters, including local fishermen, chanted against President Mohamed Morsi and the control the Brotherhood has over the state, which resulted in heated verbal exchanges.

The police were unable to control the rival groups when fights broke out and so military police appeared on the scene and set the dogs on the crowds.

Several complaints were filed to the police, calling the action, taken under the pretenses of protecting the governor, a violation of protesters' human rights.