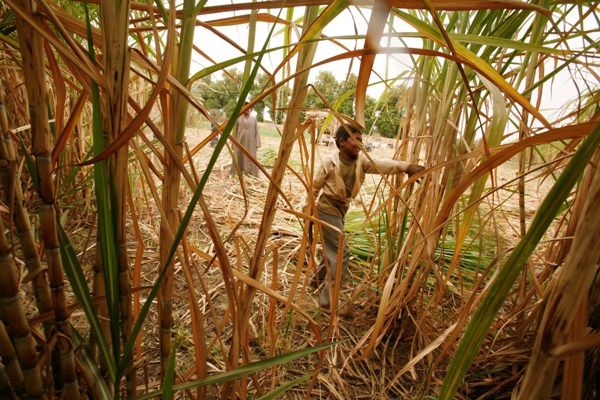 A farmer harvests sugar cane in a village near Aswan April 26, 2009. REUTERS/Asmaa Waguih
CAIRO/GENEVA, April 16 (Reuters) - Egypt is considering a 20 percent tariff on white sugar imports as it bolsters its own sugar industry with a subsidised export push, a ministerial statement and a filing at the World Trade Organization said on Thursday.
"It is proposed to impose a provisional safeguard measure in the form of additional duty 20 percent of the CIF (cost, insurance and freight) value with a minimum 700 Egyptian Pounds ($92) per ton," Egypt said in its filing to the WTO.
Temporary safeguard tariffs are allowed under WTO rules if there is a sudden, unexpected and damaging surge of imports, and if the country that imposes the tariffs first seeks the views of interested parties.
But their use has been under increasing scrutiny by authorities concerned they could be a way for countries to skirt the usual trade rules that ban unfair discrimination against foreign goods.
In a separate statement, Supplies Minister Khaled Hanafi said Egypt was not using any imported sugar for its subsidy programme and was working to promote brown sugar exports to Kenya.
SIIC, which has a monopoly over cane sugar processing in Egypt and is the supplier of sugar for the country's subsidy programme, confirmed to Reuters it had not issued any international tenders to buy sugar globally since the summer of last year.
Hanafi said the ministry was supporting the local cane sugar industry which had suffered the effects of a global drop in sugar prices as a result of oversupply.
Prices for local cane sugar were increased from 360 Egyptian pounds ($47) a tonne to 400 pounds a tonne with the ministry of supply also subsidising SIIC by paying 100 pounds a tonne for every tonne of cane sugar the company purchased locally.
Hanafi also said Egypt was seeking to export some of SIIC's production to several countries in Africa and was in talks with Kenya for the export of brown sugar.
Egypt consumes around 3.2 million tonnes of sugar annually but produces just over 2 million tonnes leaving a gap of slightly over a million tonnes a year for imports.
The North African country, which depends on the Nile for almost all its water, is trying to expand sugar beet planting to fulfil its sugar needs as it consumes less water than cane.
Beet is mostly grown in the Nile Delta region while cane is grown in southern Egypt.
Several private sugar plants have set up shop to process beet sugar in the past years including Nile Sugar and Al Nouran sugar. ($1 = 7.6300 Egyptian pounds) (Reporting by Maha El Dahan via Cairo Newsroom and by Tom Miles in Geneva; Editing by Vincent Baby and Andrew Heavens)