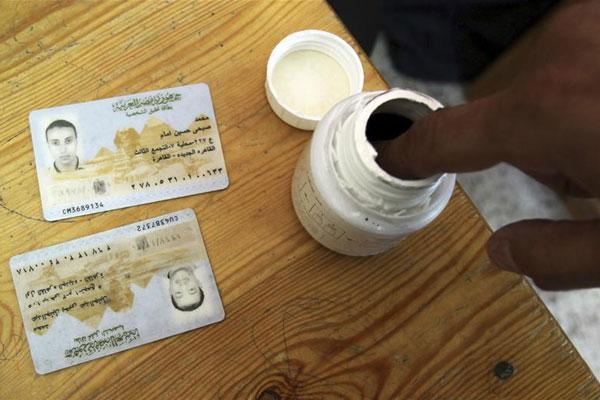 A man dips his finger in ink after casting a vote at a polling station during a parliamentary election in Cairo November 28, 2011 - REUTERS/Amr Abdallah Dalsh
CAIRO, Oct 8 (Aswat Masriya) - Embassies that requested to observe Egypt's upcoming parliamentary elections will be granted the permits to do so next week, the High Election Committee said on Thursday.
Committee Spokesman Amr Marwan told a press conference that more than 60 embassies in Egypt have asked to observe the elections.
Marwan said three candidates running for individual seats in the Mediterranean province of Alexandria have been referred to prosecutors for violating campaign regulations.
Election bribes, however, are being committed "in secrecy" and no state body can detect them, Marwan said. He stressed that it will be the role of citizens to file complaints and provide evidence on incidents of bribery.
Marwan said three private channels had interviewed candidates before the start of the campaigning period, which raises the number of television channels found to violate media regulations on the coverage of the elections to 10.
The committee is still considering the procedures that will be taken with these channels, he said.
The committee has formed sub-committees to monitor media coverage of the elections. These sub-committees monitor the daily coverage of the elections and "analyse" it in accordance with professional standards and "determine" violations.
The elections committee has the authority to decide between several courses of action if a media service violates the regulations on election coverage. It may even decide to prevent a media service from running any coverage in any form on the election for a period of time stipulated by the committee.
On polling day, women voters who wear the niqab must reveal their faces inside polling stations before voting, the spokesman said.
There will be a woman inside each station whose job is to see the faces of niqab-wearing women to check their identities. The law stipulates this, Marwan explained.
The first phase of voting for the House of Representatives inside Egypt and abroad will run from Oct 17 -19 and will include 14 governorates: Giza, Fayoum, Beni Suef, Minya, Assiut, New Valley, Sohag, Qena, Luxor, Aswan, Red Sea, Alexandria, Beheira and Matrouh.
Originally scheduled to be held earlier this year, the election race was postponed in March after the state's highest court deemed two of the laws governing the elections to be unconstitutional.