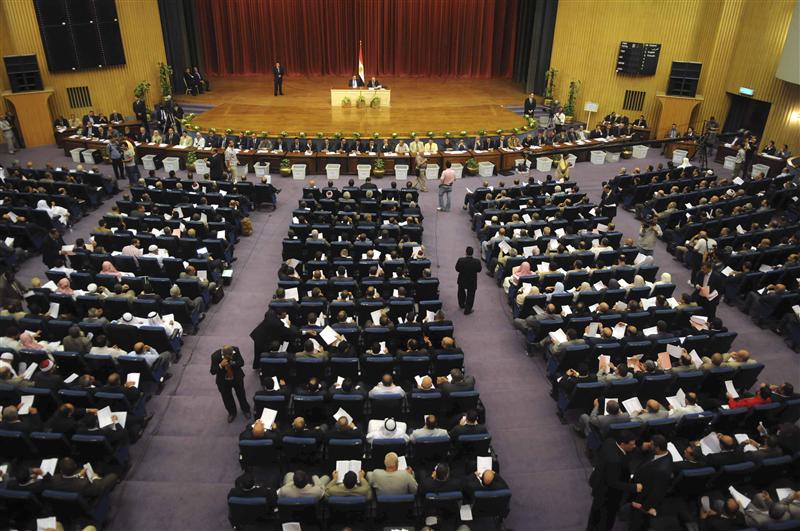 Parliamentary session to elect members of the constituent assembly on June 12, 2012 - REUTERS
By Yasmine Saleh
CAIRO, Sept 16 (Reuters) - Egypt's second biggest Islamist party on Monday walked out of a committee amending the constitution, to protest against moves to curb the influence of Islam in state affairs.
The Salafist al-Nour party, which backed the army's overthrow of the more moderate Islamist Mohamed Mursi from the presidency in July, said it was not quitting the committee but wanted to show its anger.
Amending the constitution pushed through by Mursi last year is part of the plan to return Egypt to elections after the army ousted the government on July 3, installing an interim administration.
Mursi's Muslim Brotherhood, once Egypt's biggest Islamist group, is now the target of a sweeping security crackdown and has no representative on the constitutional committee. The government said it had declined an offer to join.
At least 2,000 Islamist activists, mostly linked to the Brotherhood, have been arrested and accused of terrorism or murder since the ouster of Mursi, who has also been jailed. More than 1,000 people have died in unrest since the ouster, mostly protesters killed by security forces.
Bassam al-Zarka, deputy head of Nour, left Monday's meeting but had not quit the 50-member committee, Shabaan Abel Alem, a party official and former parliamentarian, told Reuters.
"Dr. Bassam had suggestions about the articles related to Islamic identity but was surprised to find his opinion not even written in the session's minutes and completely ignored."
Nour remained on the committee, he said, and would continue to press its point of view.
"We had reservations about the committee and its improper representation of the state's powers from the start, yet we decided to join as we are pro-negotiations as a way to implement our goals."
Despite the government's promise of fair representation for all segments of society, the committee has very few members from the Islamist parties that swept all elections after a revolt toppled autocratic president Hosni Mubarak in 2011.
The army's plan set 60 days for the committee, that started this month, to complete its work. The constitution will then be put to a referendum, leading to elections next year.
A draft containing possible amendments for the new constitution, leaked to the media last month, showed a desire to decrease the influence of Islamic laws and ease rules banning officials from the Mubarak era from running for office.
It also suggested restoring a voting system, used under Mubarak, which favoured individuals over parties and which would hamper the chances of organised groups like the Brotherhood from winning.
The draft also emphasised the rights of women and children, neglected in Mursi's Islamist-drafted document. (Editing by Michael Georgy and Robin Pomeroy)