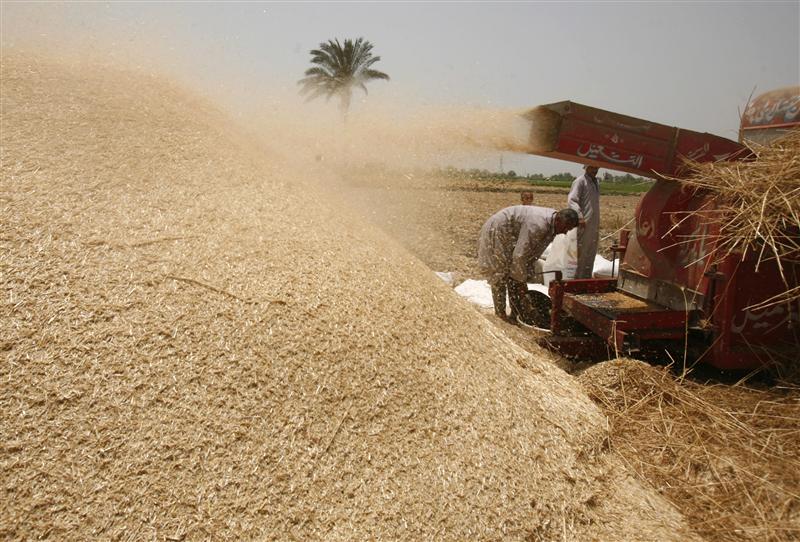 An Egyptian farmer using a machine to separate seeds from wheat - Asmaa Waguih/Reuters
CAIRO, Aug 12 (Aswat Masriya) Russia will supply Egypt with at least 5 million tonnes of wheat and Cairo is ready for an increase in its supply of agricultural commodities by 30 percent, Russian President Vladmir Putin said on Tuesday.
In a joint press conference with Egyptian President Abdel Fattah al-Sisi, Putin also said that both countries are considering the creation of a free trade zone, adding that both presidents agreed to expand technical military cooperation between their states.
Putin said that trade cooperation between Egypt and Russia has doubled during the period between January and June, compared to the same time span last year.
Sisi said the two presidents discussed means of developing their states' cooperation in different fields such as trade and investment.
"I hope we can create a Russian industrial zone in Egypt," Sisi said. He added that such a zone could be part of the new Suez Canal mega project which he launched last week.
The project entails digging a new 72-km (45-mile) canal alongside the existing Suez Canal and is scheduled to be finalised within a year.
Sisi is in Russia to discuss bilateral relations on the regional situation on his first visit since he became president.
The Russian president said he discussed with his Egyptian counterpart regional and international issues such as the situation in Gaza and Syria.