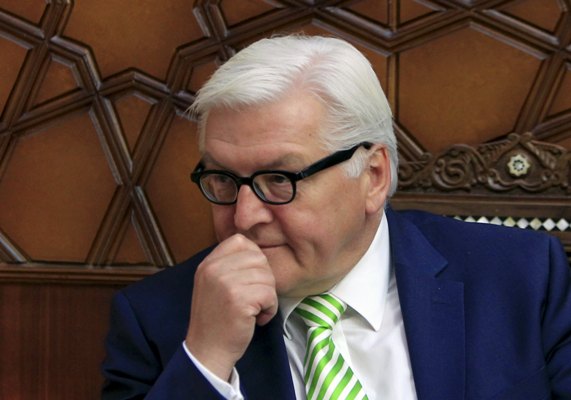 German Foreign Minister Frank-Walter Steinmeier meets with Sheikh Ahmed Mohamed el-Tayeb, Egyptian Imam of al-Azhar Mosque (not pictured), in Cairo May 4 2015. Steinmeier will also meet President Abdel Fattah al-Sisi during his two-day visit to Egypt. REUTERS/Mohamed Abd El Ghany
CAIRO, May 4 (Aswat Masriya) - Egypt's President Abdel Fattah al-Sisi discussed with the German foreign minister the importance of using German capacity to support Egypt's efforts to fight poverty and illiteracy, during the latter's visit to Cairo on Monday.
German Foreign Minister Frank-Walter Steinmeier arrived in Cairo on Sunday for "political talks" with Egypt's leadership, according to a statement by the minister posted on the website of the German embassy in Cairo.
Sisi stressed during his meeting with Steinmeier that Egypt is looking forward to strengthening bilateral ties with Germany in all fields, as well as ties with the European Union, the presidency spokesman said in a statement.
Spokesman Alaa Youssef added that both parties also discussed increasing the activities of German companies within the Egyptian market, as well as strengthening military cooperation.
Sisi and Steinmeier addressed as well the latest regional developments and the proliferation of "extremist and terrorist organisations" in the Middle East region. They stressed the importance of intensifying international efforts to face "terrorist groups", and especially the Islamic State fighters in Syria and Iraq.
They both agreed on the importance of reaching political solutions to the Syrian and Libyan crises.
Steinmeier had said in the embassy statement that Egypt has a fundamental responsibility to achieve stability in the Middle East, adding that "close consultation with Egypt is indispensable in the journey of finding solutions to deep crises in the region, starting with Libya, through Syria and reaching Yemen."
The German foreign minister also met with his Egyptian counterpart on Monday, as well as al-Azhar Imam Ahmed al-Tayeb, Egypt's top religious authority.
Sisi is scheduled to visit Germany in June, a visit that was briefly discussed with Steinmeier on Monday.
German industrial giant Siemens signed a group of memoranda of understanding with Egypt's Electricity Ministry during the Egypt Economic Development Conference last March to establish power stations at the cost of $10 billion.
Sisi commended Germany's "active" participation in the conference on Monday, stressing that Siemens has received support from the German government, reflecting "Germany's continuous support to the Egyptian economy," the presidency statement read.