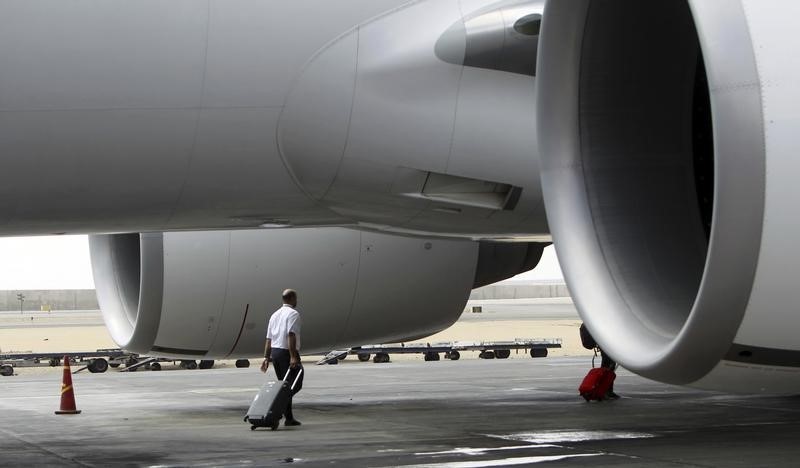 An EgyptAir airline crew member walks near an EgyptAir plane on the runway at Cairo Airport, September 5, 2013. REUTERS/Mohamed Abd El Ghany
CAIRO, Apr 26 (Aswat Masriya) - An Egyptian delegation from the civil aviation authority left Cairo for the Qatari capital Doha on Sunday, in the first official visit since the withdrawal of Egypt's ambassador from the Gulf emirate.
The delegation is on a six-day visit attending a conference for Middle Eastern civil aviation authorities.
They are slated to discuss safety, quality and security requirements, said the deputy head of Egypt's civil aviation authority, who is leading the Egyptian delegation.
The attendees will also discuss alternate routes that may save on travel time and cost.
Egyptian ties with Qatar have deteriorated following the army's ouster of Islamist President Mohamed Mursi in July 2013, which was prompted by mass protests against his rule. Qatar was a strong supporter of Mursi's regime.
Egypt withdrew its ambassador to the Gulf state in March 2014 following critical comments made by the Qatari emir on Egypt's domestic affairs.
Similarly, Qatar recalled on February 18, 2015 its ambassador for "consultations" over a statement made by an Egyptian diplomat but the ambassador was reinstated in late March.
Both Egypt and Qatar both embraced an appeal by the late Saudi King Abdullah in December 2014 to consolidate relations between them.
The two countries are now part of a Saudi-led coalition which is carrying out airstrikes on Yemen to halt the Shi'a Houthis' advances' in the conflict-torn country.