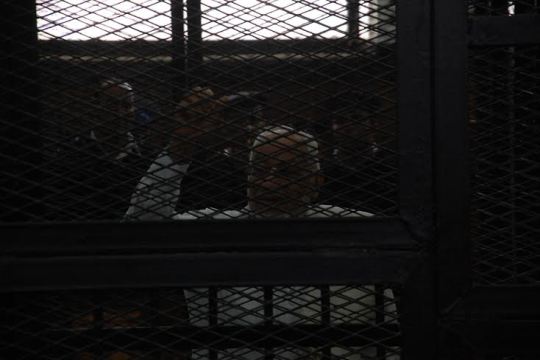 Former Supreme Guide of the Muslim Brotherhood Mahdi Akef stands trial on December 10, 2013 over allegations that he insulted the Egyptian judiciary. Stringer/Aswat Masriya
CAIRO, March 12 (Aswat Masriya) A Cairo criminal court adjourned on Wednesday the trial of Mohamed Mahdy Akef, the former supreme guide of the Muslim Brotherhood, to April 16.
The hearing was delayed to listen to the testimonies of media personalities Mahmoud Saad and Mona al-Shazly, a judicial source told Aswat Masriya.
A number of judges had filed a complained against Akef, accusing him of insulting Egypt's judiciary.