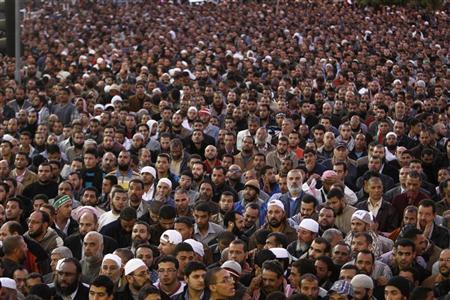 Pro-Mursi Islamists rally on December 11, 2012 - Khaled Abdallah/Reuters
CAIRO, May 2 (Reuters) - Thousands of Egyptian hardline Islamists marched from a mosque in a Cairo suburb on Thursday night to the state security headquarters to protest against what they said was a return to the force's pre-revolution methods.
The protest points to lingering suspicion harboured by the hardliners about security agencies used against them by ousted President Hosni Mubarak, and which, they say, Islamist President Mohamed Mursi has been unable to reform.
Several Salafi Islamist groups issued a statement earlier in the day saying state security organs had returned to "criminal practices" such as summoning citizens for investigation, threatening the achievements of the 2011 uprising.
Egypt dissolved the feared and hated state security apparatus, which has been used by Mubarak's administration to crush political opposition, including from Islamists who were repressed under the old guard, the month after he was toppled.
It was replaced by a new National Security Force, which the Interior Ministry promised would serve the nation without interfering in the lives of citizens or their right to exercise their political views.
Protesters, some waving the black and white al Qaeda flag, chanted to onlookers in apartments on streets clogged by the march "come down from houses, state security is Mubarak", and accused Mursi of building an apparatus no different from the old one.
The system of law and justice has been a major stumbling block in post-Mubarak Egypt. A rift between the Islamist rulers and the judiciary, which Islamists see as controlled by Mubarak loyalists, is steadily widening amid a broader struggle over the future character of the country.
Earlier on Thursday, an Egyptian judge referred a complaint filed by a police spokesman against popular hardline Islamist cleric Hazem Salah Abu Ismail to the state security prosecution, setting a hearing for Saturday to begin the investigation.
State newspaper Al-Ahram reported that the complaint called for Interior Minister Mohamed Ibrahim to arrest Abu Ismail on charges of "terrorising police officers" after Abu Ismail urged his supporters to attend Thursday's protest.
The police spokesman's complaint added that such demonstrations hindered officers in their work to protect national security.