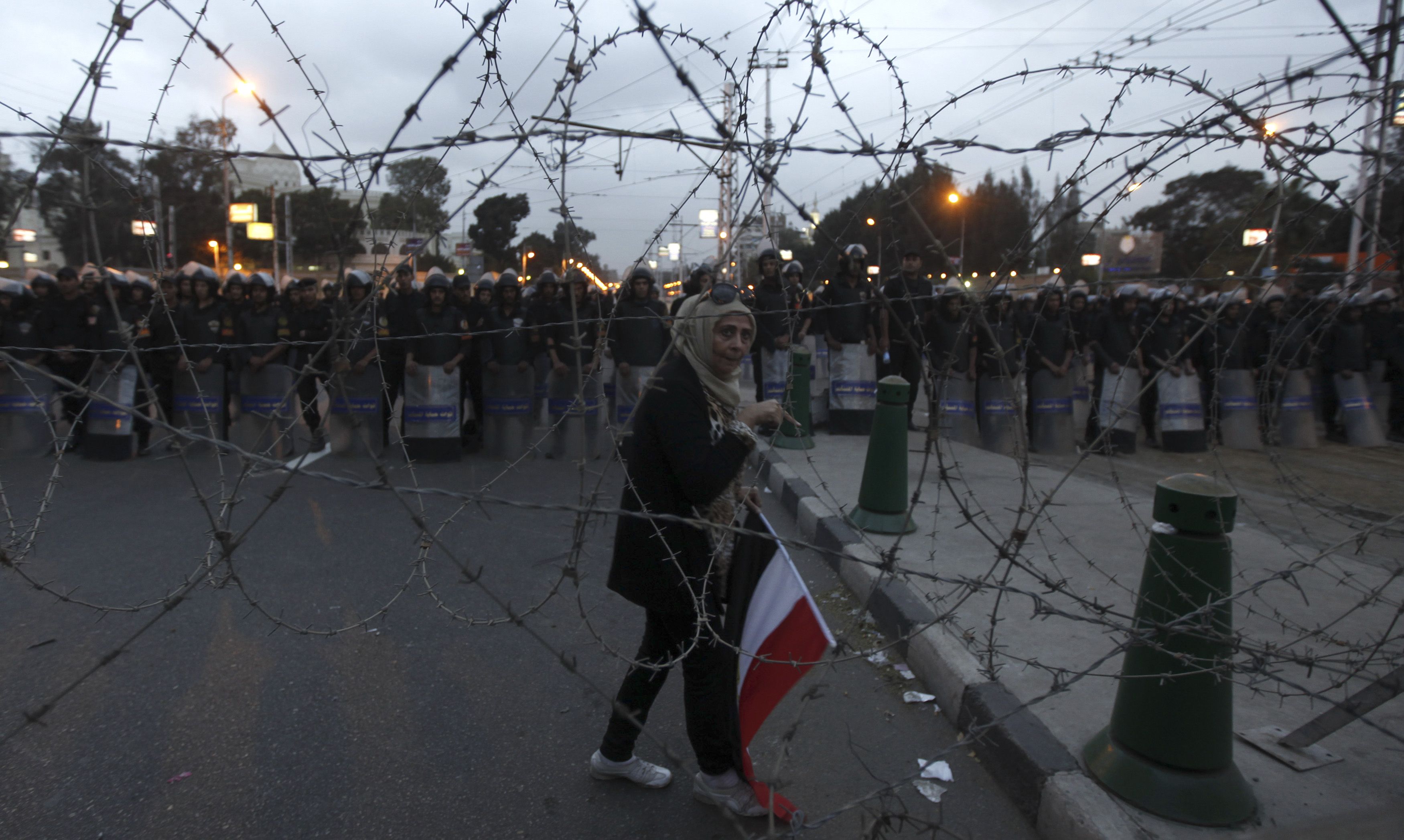 A protester holds an Egypt flag as she walks in front of riot police in front of the presidential palace in Cairo December 4, 2012. Reuters/Amr Abdallah Dalsh
Five people were killed and more than 400 were injured in confrontations between supporters and opponents of President Mohamed Mursi that began on Wednesday evening and continued until the early hours of Thursday by Egypt's presidential palace where the army has now deployed tanks.

Tension erupted when Mursi issued a constitutional decree on November 22 shielding his decisions from judicial challenges and escalated as he called for a December 15 referendum on a draft constitution written by an Islamist-dominated assembly.

Opposition forces staged protests to express their dissatisfaction with Mursi's decree as Islamists responded with counter demonstrations to show support for the president.

Following a pro-Mursi demonstration on Saturday, thousands of Egyptians marched to the presidential palace on Tuesday to express their outage with the president's decree and the controversial draft charter.

Some protesters broke through the barbed wire surrounding the palace leading central security forces to fire teargas in an attempt to disperse them.

After a round of teargas, forces retreated and protesters surrounded the Heliopolis palace before announcing a sit-in to press for their demands.

An opposition coalition known as the "National Salvation Front" called on Egyptians to join the peaceful sit-in, granting the Muslim Brotherhood president until Friday to rescind his decree and cancel the constitution referendum.

In response, the Brotherhood called on its, and president Mursi's, supporters to head to the presidential palace on Wednesday to teach opposition forces that they cannot "shake legitimacy or forcibly impose their views."

Responding to the call, thousands of Mursi supporters headed to the palace, forced out opponents, taking down their tents and ultimately ending their sit-in.

Opposition forces called for a march to take off from Roxy Square but they never made it to the palace as scuffles between the Brotherhood/Mursi supporters broke out in leading streets.

Meanwhile, several headquarters of the Brotherhood's Freedom and Justice Party were torched and others were attacked.

A number of Mursi's independent advisors resigned in protest against the president's failure to contain the violence (Saif Abdel Fattah, Amr al-Leithy, Mohamed Saif al-Dawla and Ayman al-Sayad).

The National Salvation Front held Mursi responsible for the bloodshed while one of its leaders, ex-presidential candidate and former Arab League Secretary General Amr Moussa, asked the president for an official proposal for dialogue to end the crisis.

Another leader of the Front, Nobel Laureate Mohamed ElBaradei, said on Wednesday, "Vicious attack vs peaceful protesters in front of presidential palace without police protection. Regime leading Egypt into violence and bloodshed."

The former director of the International Atomic Energy Agency added later on his official Twitter account, "Mursi must stop bloodshed, rescind declaration, postpone referendum and enter into immediate dialogue with opposition. Egypt is under siege."

Meanwhile, Brotherhood senior member Essam al-Erian said that the palace confrontations are not between revolutionaries and other revolutionaries but between pro-revolution forces who are defending legitimacy and anti-revolution forces who are practicing political thuggery.

He called on the people to head to the scene to "capture the thugs and hand them over to justice and reveal who is funding them."

He accused opposition forces of approving of the violence, insisting that a real chance for dialogue is available but is being jeopardized by the "third party".

Mursi will address the nation in a "decisive speech" on Thursday.