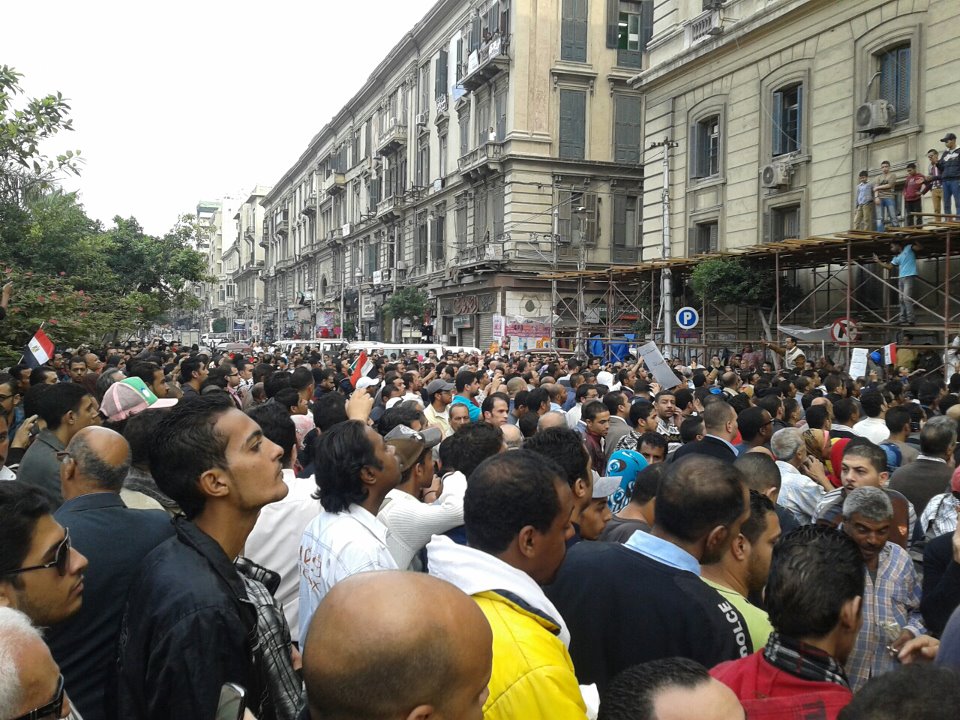 Anti-Mursi protesters in Alexandria on November 27, 2012 in Mansheya, Alexandria - Aswat Masriya
Supporters of former President Mohamed Mursi and the Muslim Brotherhood staged protests on Friday in Cairo and Giza but avoided Cairo's Tahrir Square.
Mursi's allies marched from mosques in Nasr City, Zaytoun, Helwan, Mohandessin and Maadi areas, as well as Giza, the Middle East News Agency (MENA) reported.
In a statement it issued on Thursday, the National Coalition for Supporting Legitimacy backtracked on its call for demonstrating at Tahrir and Nahda squares.
"We urge (Friday's) marches to avoid areas where blood was shed, whether it's Tahrir or otherwise," the statement said.
But it added that "Egyptians have the right to protest at Tahrir, Rabaa, and Nahda squares in the coming weeks".
Dozens were killed in clashes with security forces last Sunday when allies of the Brotherhood attempted to barge into the square where thousands gathered to commemorate the October 6 victory.
Army forces sealed off Tahrir, Mostafa Mahmoud, Nahda, and Rabaa squares to traffic.
In Alexandria, an Aswat Masriya witness reported the presence of three masked and armed men were taking part in a pro-Brotherhood march in Sidi Beshr.
Hundreds of Brotherhood supporters marched in areas east of Alexandria.
Scores of army supporters rallied at al-Qaed Ibrahim Mosque while carrying pictures for army chief and Defense Minister Abdel Fattah al-Sisi, MENA reported.