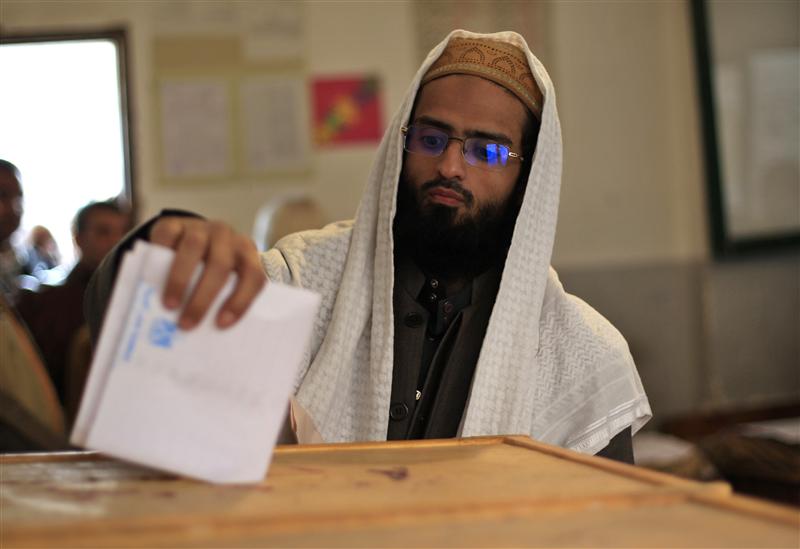 Parliamentary elections/Mohamed Gad Allah/Reuters
Younes Makhyoun, member of both the constituent assembly and the Salafi (ultraconservative) Nour Party, asked the people to vote for the first draft of Egypt's constitution if it supports Sharia (Islamic law).
"Even though Sharia must be enforced without vote", Makhyoun added.
Salafi members of the constituent assembly quarreled with secularists over whether Egypt's new constitution should enforce Sharia laws or principles, Makhyoun said at a Nour conference in Suez.
Makhyoun claimed he told secular parties to look for another people to live under the secular constitution, arguing that Egyptians want Islamic law implemented.
Another Salafi member of the constitution-writing assembly, Shaaban Abdel al-Alim, had once told Aswat Masriya that Salafis in the assembly were unhappy with the second article of the draft constitution which states: The principles of Sharia are the main source of legislation.
He insisted that Salafis from inside and outside of the assembly want the constitution to enforce Sharia "laws" as opposed to Sharia "principles".
Makhyoun argued that Egypt is now at a crossroads of "either Islamic rule or heretical rule", he added that liberals and secularists are trying to impose their views through the media and scare people off of Islam.
Meanwhile, Mohamed Ibrahim Mansour, another Salafi member of the constituent assembly, slammed criticism of Article "36" that calls for equality between men and women in accordance with Sharia.
Mansour wondered in a seminar on Friday, "Would the people accept a female Azhar Sheikh? Or a female military commander? Men may marry four times… but women?"