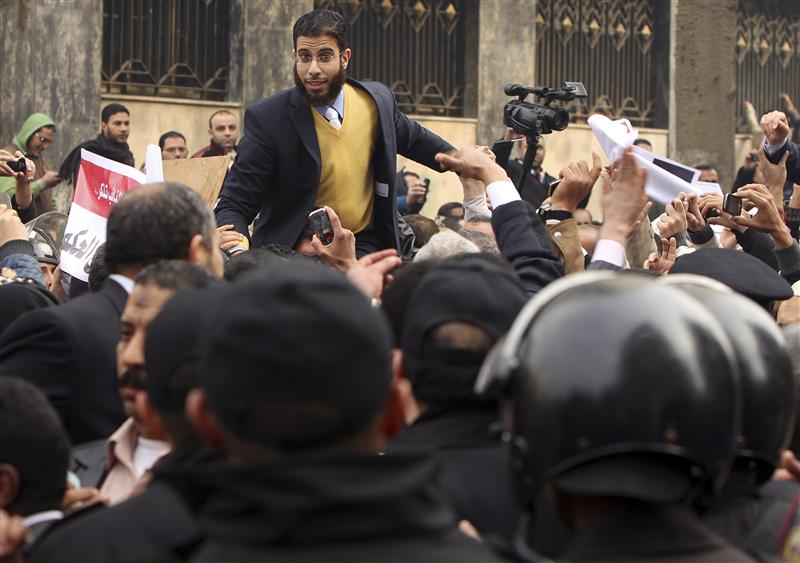 Spokesperson of Al-Nour Party Nader Bakkar in front of parliament in its inaugural session - Sohaib Salem/REUTERS
Spokesperson of Al-Nour Party Nader Bakkar said that efficiency is the first criterion for choosing members of the constituent assembly in charge of drafting the constitution.
"Parliamentary ratios -the number of seats for each party- will not be a criterion for choosing the assembly's members", Al-Masry Al-Youm newspaper reported Bakkar as saying."90% of the constitution's articles are already agreed on.
The constitution is the most important thing we are thinking of right now", Bakkar said in Sa'at Hesab tv program in an episode which grouped him with MP Mohamed Abu Hamed, Emad Gad, and MP Helmi Al-Gazzar.
Abu Hamed called for the parliament to refrain from drafting the constitution."If we talk about the constituent assembly, the ideological should not have a large share. The percentage of Ikhwan and Salafists in Egypt is not more than 10%. If 70% of the parliament members are Ikhwan and Salafists, then those who chose 70% of them chose between (God) and the others; their percentage in the parliament is 70% and only 10% in the people ", Abu Hamed said.
The whole Islamist current won around 70% of parliament seats with the Muslim Brotherhood's Freedom and Justice Party in the first place while Al-Nour came second, and Al-Wafd third.